Contact Us
Institutional Communications
Bureau of Mines Building, Room 137
Laramie
Laramie, WY 82071
Phone: (307) 766-2929
Email: cbaldwin@uwyo.edu
Lab School Security Requirements Bring Change to UW Education Building Access
March 9, 2020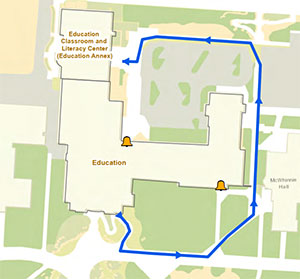 Access to the University of Wyoming's Education Building will become more secure starting Monday, March 23.
Because of the presence of the UW Lab School, the Education Building will follow Albany County School District 1 entry procedures during Lab School hours.
The College of Education dean's office will be open to the public via the main doors located off Prexy's Pasture. However, education faculty, staff and students will obtain entry to the remainder of the building via their WyoOne ID cards.
Albany County schools adhere to a single entry system under which visitors to the schools must enter via secure entrances. The secure entry and vestibule system requires that visitors ring a buzzer to gain permission to access the building. Once the school office verifies that a visitor can enter the building, the door latch will be released.
For the safety of students and school personnel, all visitors to Albany County School District schools are required to check in at the school's office before proceeding to any other areas. Visitors will be asked to show a photo ID and sign in and/or out at the school's office. Visitors are required to wear identification badges while in the Lab School areas. When the Lab School is not in session, the building reverts to the standard operation of a UW building.
Access to the Education Annex, meanwhile, will be via the blue exterior route in the accompanying graphic.
Contact Us
Institutional Communications
Bureau of Mines Building, Room 137
Laramie
Laramie, WY 82071
Phone: (307) 766-2929
Email: cbaldwin@uwyo.edu