Contact Us
Institutional Communications
Bureau of Mines Building, Room 137
Laramie
Laramie, WY 82071
Phone: (307) 766-2929
Email: cbaldwin@uwyo.edu
Amundson Receives UW Libraries Outstanding Staff Award
April 20, 2020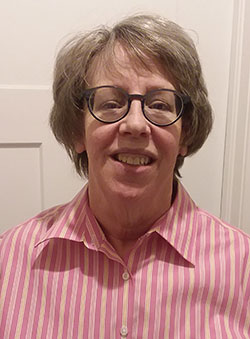 Gayle Amundson
Gayle Amundson, University of Wyoming Libraries accounting associate, is the recipient of the UW Libraries Outstanding Staff Award for her contributions during 2019.
The Outstanding Staff Award, funded by the McMurry-Spieles Excellence Fund, honors a UW Libraries staff member who has "demonstrated exceptional service to UW Libraries and made significant contributions to the university and/or the community." Recipients of this award are chosen by a committee of their peers.
Amundson joined UW Libraries in 2015. She is responsible for providing essential day-to-day bookkeeping and financial support of UW Libraries' business operations, as well as serving as timekeeper and a primary resource for UW's policies and procedures. 
Amundson has played an instrumental role in significant changes that occurred at UW Libraries, beginning with the transition from Schedule Source to Time Clock Plus (TCP). Shortly after, she embraced further change by learning how to transfer TCP information into the newly implemented WyoCloud Human Capital Management (HCM) system. During the onset of HCM's launch, Amundson faced many challenges it presented, which she skillfully overcame via attending "Deep Dive" and other training sessions while simultaneously developing her own reports and methods to discern problems.
One colleague wrote in her nomination letter about Amundson's problem-solving skills.
"I'm thoroughly impressed by the number of issues she foresees and cuts off at the pass or has solved before others realized they were problems," the colleague wrote.
On another occasion, Amundson and a colleague were in a position where they needed to provide coverage for three full-time employees who departed from UW Libraries within a short time of each other. Together, they quickly learned what the nuances of the positions entailed, as well as how to oversee the positions successfully. Amundson adapted immediately, took on the extra workload without complaint, and volunteered to jump in whenever needed, her colleague wrote in a nomination letter. 
"Gayle does an exceptional job in all her duties. She has been my rock through the turmoil of the last several years," her colleague wrote.
The colleague added in the nomination letter that "Gayle is a friend to everyone she meets. Many library employees reach out to her first for assistance … and she is genuinely interested in all of her co-workers … we all value her friendship."
In addition to her unwavering dedication to UW Libraries and her exceptional ability to carry out routine tasks, Amundson cares for an elderly father alongside her daughter, a co-worker notes.
Contact Us
Institutional Communications
Bureau of Mines Building, Room 137
Laramie
Laramie, WY 82071
Phone: (307) 766-2929
Email: cbaldwin@uwyo.edu