Contact Us
Institutional Communications
Bureau of Mines Building, Room 137
Laramie
Laramie, WY 82071
Phone: (307) 766-2929
Email: cbaldwin@uwyo.edu
Caring Companions Creator Receives UW's Marvin Millgate Student Engagement Award
April 9, 2020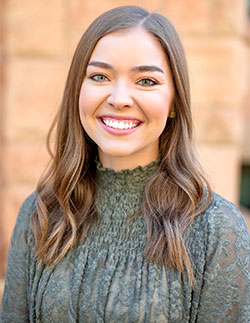 Morgan Longstreth
Morgan Longstreth, a University of Wyoming Department of Psychology doctoral student from Newark, Ohio, is conducting research that focuses on issues in older adults related to mental health, technology preference and rurality.
That work has led her to create the Caring Companions program, a project she started last fall. The program focuses on the need for companionship for local residents in the community with dementia.
For her efforts, Longstreth is the recipient of the Marvin Millgate Student Engagement Award. The award recognizes one outstanding UW student or recognized student organization that is engaged in service-learning or other service opportunities that have made a tangible difference in the community.
Longstreth's inspiring work to fill the gap between Laramie residents in need, community partners and UW has made a tangible difference in the community, says Jean Garrison, director of UW's Office of Engagement and Outreach, which presents the Millgate Awards.
The Caring Companions program has seven volunteers, all UW students, and Longstreth hopes to add local community volunteers. The student volunteers -- primarily interested in health-related fields and careers -- are receiving training and hands-on experience in the medical field.
"This program resulted from the need for those with dementia to have companionship in order to help reduce the loneliness and social isolation that can come with the diagnosis," Longstreth says.
She also noted the need for caregivers to have a break from caring for those with dementia. Seeing the need, Longstreth organized and trained volunteers, matching them with senior citizens in need. She hopes this program will eliminate one of the gaps in geriatric care.
Longstreth also organized the Dementia Caregiver Support Group, which meets twice each month. She facilitates an atmosphere open to discussion and community collaboration. Caregivers consider this source as an open environment where they can discuss difficult situations and support one another.
Through these programs, Longstreth has created a diverse network of groups in Laramie, including LIV Health, the Eppson Center for Seniors, Edgewood Spring Wind Assisted Living and Memory Care, the Alzheimer's Association, and several local health care and mental help providers who referred their patients to Caring Companions.
The local partnerships are giving Caring Companions an opportunity to expand and help more residents. Longstreth's continued efforts are providing a positive impact on engaging a part of the local community that many people often miss, according to a person who nominated Longstreth for the award.
"With these programs, Morgan is providing the geriatric community an opportunity to be involved and to be heard," the nominator says.
"Morgan has been a leader in the community, bridging the gap between Laramie residents in need, community partners and UW, all while pursuing her passion as a student at the University of Wyoming," says Robin Barry, a clinical psychology assistant professor and Longstreth's adviser. "Her dedication to the community is exhibited through her success in creating and implementing various programs that have touched many lives."
Along with Longstreth, Ana Houseal, an associate professor in the UW School of Teacher Education, received the Marvin Millgate Engaged Faculty Award; Jane Crayton and Mary Louise Wood received the Marvin Millgate Engaged Staff Award; and Healthy Kids Rx, a collaborative program between Laramie's CrossFit 7220 and UW, received the Marvin Millgate Excellence in Community Partnership Award.
About the Marvin Millgate Community Engagement Awards
Outreach and engagement with the state are core goals of UW and integral to the university's land-grant mission. Building a strong culture of engagement and collaboration, involving the exchange of knowledge and resources, means developing partnerships in a context of reciprocity with the citizens and institutions of Wyoming, the nation and the world.
The Marvin Millgate Community Engagement Awards recognize individuals and groups at UW and in the community who have rendered exceptional engagement and service to Wyoming communities.
Contact Us
Institutional Communications
Bureau of Mines Building, Room 137
Laramie
Laramie, WY 82071
Phone: (307) 766-2929
Email: cbaldwin@uwyo.edu