Contact Us
Institutional Communications
Bureau of Mines Building, Room 137
Laramie
Laramie, WY 82071
Phone: (307) 766-2929
Email: cbaldwin@uwyo.edu
Chestnut Appointed UW's VP for Student Affairs
April 27, 2020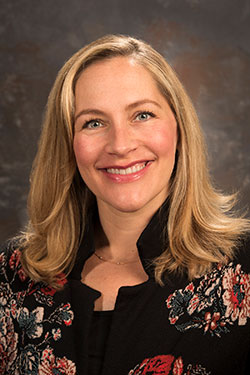 Kim Chestnut
Kimberly Chestnut, who has led the University of Wyoming's Division of Student Affairs on an interim basis since the start of this academic year, has been named UW's vice president for student affairs.
The appointment, subject to approval by the UW Board of Trustees, was made by Acting President Neil Theobald, in consultation with incoming UW President Ed Seidel.
"Dr. Chestnut has done an exceptional job of leading Student Affairs this year, and her contributions during the difficulties related to COVID-19 have been invaluable," Theobald says. "I'm delighted that Dr. Seidel has agreed we should remove the 'interim' label from her title, so she can continue to serve in this role to advance our efforts to serve our students."
Before being named interim vice president in September, Chestnut was UW's dean of students, a position to which she was appointed in 2018. She came to UW from West Chester University (Pa.), where she was the assistant vice president for student affairs. She also has held positions at the University of Colorado-Boulder, Temple University in Philadelphia, Berkeley College (N.J.), Antioch University Midwest (Ohio) and Widener University (Pa.).
Chestnut holds a doctoral degree in human sexuality education and a master's degree in education, both from Widener University; a master's degree in psychology from George Washington University in Washington, D.C.; and a bachelor's degree in psychology from the University of Colorado-Boulder.
She is a member of the American College Health Association; National Association of Student Personnel Administrators; American College Personnel Association-College Student Educators International; Association of Title IX Administrators; Advanced Sex Educators and Trainers; American Association of Sexuality Educators, Counselors and Therapists; and Delta Gamma fraternity.
Contact Us
Institutional Communications
Bureau of Mines Building, Room 137
Laramie
Laramie, WY 82071
Phone: (307) 766-2929
Email: cbaldwin@uwyo.edu