Contact Us
Institutional Communications
Bureau of Mines Building, Room 137
Laramie
Laramie, WY 82071
Phone: (307) 766-2929
Email: cbaldwin@uwyo.edu
UW College of Business Hires Online Instructional Designer
April 13, 2020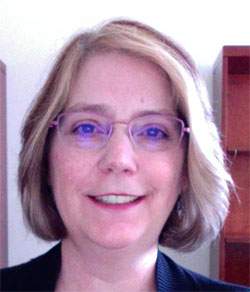 Candace Ryder
Candace Ryder, an assistant faculty development professional, is the new University of Wyoming College of Business online instructional designer.
Ryder joins the College of Business' online learning team with Jenn Koza, online learning coordinator and assistant lecturer of finance; and Benjamin Cook, Master of Business Administration Program director and associate lecturer in economics.
Ryder, who began her duties Feb. 24, helped the college's faculty in the transition to online-only classes for the remainder of the spring semester due to the novel coronavirus COVID-19.
"The vision for the future, combined with the outstanding faculty and students, were the primary factors in my decision to join the College of Business," Ryder says. "My background is focused in two major areas that overlap with key directions of the college: accounting and finance, and online instructional design. The opportunity to work with others in growing the quality and reach of the college's online offerings is very exciting and will push the College of Business in new directions."
One of the five core strategic goals for the College of Business is to reimagine online business programs to better serve students, the state and beyond.
Ryder will be responsible for the instructional design process for new or existing courses and programs; collaborating with faculty in the creation and revision of online or hybrid courses; identifying and suggesting pedagogic techniques for curriculum delivery; and developing learning materials and activities to support college learning objectives of the curriculum.
"Candace will be helping us to maintain master templates for the look, feel and navigation for these online courses in our college," Koza says. "A consistent design really helps improve the experience for the students, which is the goal, and Candace will not only be helping design that look and feel, but also helping to implement it alongside our faculty."
A key part of Ryder's role will be to collaborate with other instructional support units across campus to leverage those resources, and then to assess online courses for alignment with online quality assurance standards.
"Candace joins the College of Business at a critical time when online programming has never been more important," says David Sprott, dean of the College of Business. "This new resource will enable the college to grow the quality and reach of online offerings across our state."
Ryder received her B.S. degree in business administration, cost/managerial accounting (1998) and a Master of Education in education and human resource studies, adult education and training (2011), both from Colorado State University.
Ryder has an extensive background in designing, developing and delivering blended e-learning and instructor-led courses using cloud-based learning management systems to enhance learner proficiency in the use of software applications and business workflows.
"Hiring Candace fills a critical need for taking the College of Business' online programming to the next level," Cook says. "There has never been a more exciting time to improve the quality, speed and delivery of our online programming. Our state needs it, and our students deserve it."
Contact Us
Institutional Communications
Bureau of Mines Building, Room 137
Laramie
Laramie, WY 82071
Phone: (307) 766-2929
Email: cbaldwin@uwyo.edu