Contact Us
Institutional Communications
Bureau of Mines Building, Room 137
Laramie
Laramie, WY 82071
Phone: (307) 766-2929
Email: cbaldwin@uwyo.edu
Kate Northrop Recipient of UW's Ellbogen Classroom Teaching Award
June 22, 2020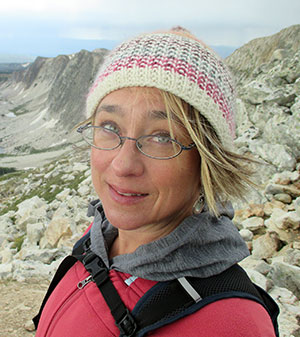 Kate Northrop
Since coming to the University of Wyoming in 2008, Kate Northrop has proved to be more than an instructor to those who know her. She changes the lives of those around her.
Alyson Hagy, a UW Department of Visual and Literary Arts professor, who was on the hiring committee reviewing Northrop's application, points out that fact. Besides Northrop's stellar professional background that featured published works, what struck Hagy the most were the written testimonials from those who recommended her for the UW position.
"She was a graduate of the prestigious Iowa Writing Workshop and had letters of reference from some high-flying American writers. But, curiously, it was the teaching evaluations from West Chester University that dazzled us most brightly," Hagy says. "None of us had ever seen such detailed testimony, especially from students. And, the evaluations weren't just from poetry students: They were from all quarters. It didn't seem to matter who Kate taught or under what circumstances: Those students were moved by the experience. And changed."
That high praise has earned Northrop, a Department of Visual and Literary Arts associate professor in the Creative Writing Program, the John P. Ellbogen Meritorious Classroom Teaching Award. She is among three recipients of the award, established in 1977 by businessman John P. "Jack" Ellbogen, to "foster, encourage and reward excellence in classroom teaching at UW." Other Ellbogen winners are Michelle Chamberlin, an associate professor of mathematics in the Department of Mathematics and Statistics, and Jim Ward, a senior lecturer in the Department of Computer Science.
Northrop's personal teaching style reached two of her students this past year.
Caroline Miller asked Northrop to advise her in an independent study in poetry, since there were no graduate-level poetry workshops offered.
"I was struck by not only her willingness to take on this extra workload, but the enthusiasm with which she agreed," Miller says. "As I approach the end of my time in this program, this opportunity to work with Kate has crystallized as one of the most important and formative experiences I have had here. I find myself feeling more confident and enthusiastic about the creative process than I ever have, thanks, in large part, to the incredible guidance Kate has offered."
Student Jess Fahlsing was a creative writing minor and says the one course taught by Northrop "changed the way that I think about writing and how it relates to my life."
"I am struggling to find the words to convey how much taking a class from Kate meant to me and did for me. It is such an honor that I am afraid I will not be able to speak to Kate's teaching in a way that does her justice," Fahlsing says. "The simplest way that I could put this would be to say that Kate really sees each and every one of her students for who they are, and invests a huge amount of time in fostering their growth. Her teaching goes beyond the classroom."
Colleague Val Pexton, a senior lecturer in the Creative Writing Program, praises Northrop for her innovation within existing courses; creating new courses; and helping to develop better curriculum for writing students.
"I can honestly say that she is the colleague we all want to work with and the one we aspire to be," Pexton adds.
Northrop received a bachelor's degree in history of art (1991) from the University of Pennsylvania and an MFA in creative writing/poetry (1995) from the University of Iowa.
Contact Us
Institutional Communications
Bureau of Mines Building, Room 137
Laramie
Laramie, WY 82071
Phone: (307) 766-2929
Email: cbaldwin@uwyo.edu