Contact Us
Institutional Communications
Bureau of Mines Building, Room 137
Laramie
Laramie, WY 82071
Phone: (307) 766-2929
Email: cbaldwin@uwyo.edu
UW Art Museum to Host Virtual Summer Art Camp
June 11, 2020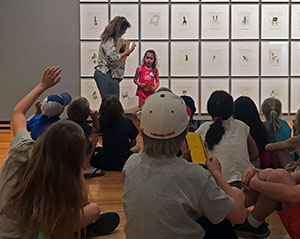 Participants from Summer Art Camp 2019 visit the UW Art Museum's gallery space. (UW Art Museum Photo)
The University of Wyoming Art Museum will offer Virtual Summer Art Camp Tuesdays and Thursdays during four weeks in July for families and youths ages 6-15.
The schedule is as follows:
-- Tuesday, July 7, and Thursday, July 9: The focus will be on creating kinetic sculpture, featuring the exhibition "Material Slip."
-- Tuesday, July 14, and Thursday, July 16: The activity will be weaving on homemade looms, inspired by the exhibition "Material Tradition."
-- Tuesday, July 21, and Thursday, July 23: This week features the investigation of identity through mask making, focusing on the Pat Guthrie Teaching Gallery.
-- Tuesday, July 28, and Thursday, July 30: Participants will explore charcoal drawing through the 45th annual Juried UW Student Exhibition.
Virtual exhibition experiences; live discussions with peers and teachers; and video demonstrations themed for each weekly activity will take place Tuesdays from 1-2 p.m. Optional check-ins with peers and teachers in small groups will occur Thursdays. Group meeting times for Thursday check-ins are assigned after registration. They will begin at 1 p.m. and 2 p.m., and each will last one hour. Upon registration, password-protected Zoom links will be provided.
Curated art kits will be available to pick up outside the Centennial Complex on the lower level. The kits will include art-making materials for each week's themed activity. Participants will need to have basic supplies, such as scissors, glue, paints and markers, at home. Participants who need any of these supplies should email museumed@uwyo.edu. The kits will contain enough materials for two to three participants or family members. Recorded versions of the activities will be available the following week. If participants miss a weekly activity, they can pick up their kits the following Monday.
To register for Virtual Summer Art Camp, go to www.uwyo.edu/artmuseum/learn/prek-12_programs/upcoming-classes-events-camps. The cost is $50 per family, and registration is limited. Scholarships are available. For more information, email museumed@uwyo.edu.
Each registered family will receive a one-year family membership to the UW Art Museum, which includes all of the perks and benefits associated with the North American Reciprocal Museum Association and Reciprocal Organization of Associated Museums. For membership details, visit the UW Art Museum's membership page at www.uwyo.edu/artmuseum/get-involved/membership/index.html.
For more information, call Katie Christensen, curator of education and statewide engagement, at (307) 766-6622 or email katie.christensen@uwyo.edu; visit the UW Art Museum website at www.uwyo.edu/artmuseum; like the museum on Facebook; or follow on Instagram.
The UW Art Museum collects, exhibits and interprets art to inspire creativity and nurture lifelong learning for the people of Wyoming and beyond. The museum is located in the Centennial Complex at 2111 E. Willett Drive in Laramie, although it is temporarily closed. Normal hours are Tuesdays through Saturdays from 10 a.m.-5 p.m. Thursday hours are extended to 7 p.m. Admission is free.
Contact Us
Institutional Communications
Bureau of Mines Building, Room 137
Laramie
Laramie, WY 82071
Phone: (307) 766-2929
Email: cbaldwin@uwyo.edu