Contact Us
Institutional Communications
Bureau of Mines Building, Room 137
Laramie
Laramie, WY 82071
Phone: (307) 766-2929
Email: cbaldwin@uwyo.edu
UW Department of Music Professor Contributes to Emmy-Nominated Documentary
June 18, 2020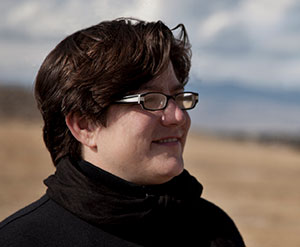 Anne Guzzo
University of Wyoming Department of Music Professor Anne Guzzo contributed to an Emmy Award-nominated, Wyoming-produced documentary film that focused on giving women the right to vote.
Two documentaries by Caldera Productions LLC of Lander -- "The State of Equality" and "Ferret Town" -- were recently nominated for Emmy Awards by the Heartland Chapter of the National Academy of Television Arts and Sciences.
"The State of Equality," which tells the story of Wyoming's world-leading role in recognizing the right of women to vote, was nominated for best historical documentary. The original music for the documentary, composed and orchestrated by Guzzo, also received an Emmy nomination for best musical composition and arrangement.
As the nation celebrates the 100th anniversary of the 19th Amendment to the U.S. Constitution affirming women's suffrage, audiences watching "The State of Equality" learn that women were voting in the Wyoming Territory 50 years before that, thanks to legislation proposed by a saloon owner from the gold boomtown of South Pass City in 1869. The documentary is a co-production of Caldera and Wyoming PBS, based in Riverton.
Guzzo says the choral music for the documentary was written first, and Wyoming author Ann McCutchan produced the text.
"She wrote the poem specifically for this production and really captures both the history and the emotions of the fight for women's suffrage," Guzzo says.
She adds that UW's Bel Canto Women's Chorus, directed by UW music Associate Professor Holly Dalrymple, "did a fantastic job bringing this to life" in such a short period. The choir had only a couple of weeks to rehearse. The soundtrack was needed by early fall, and the students had barely auditioned and just started classes by that time, Guzzo says.
She composed arrangements and variations of the choral music performed by three UW music professors: John Fadial on violin; Blake McGee on clarinet; and Beth Vanderborgh on cello.
"I also hired the talented professional producer and percussionist Thomas Blomster, from Pueblo, Colo.," Guzzo says. "I wrote about 20 of these variations, each in a different mood. The producers then had these clips edited into the film to really capture the emotions, moods and narrative in the documentary."
"Ferret Town," about the recovery in the wild of the black-footed ferret once thought to be extinct, was nominated for best feature among environmental subjects. The film documents the story of the ferrets' precarious fight for survival amidst the prairie dog towns near Meeteetse. In addition to the Emmy nomination, the film received eight official selections at film festivals in the U.S. and Canada in 2019-2020.
The Emmy Award winners will be announced July 25. Both "The State of Equality" and "Ferret Town" can be viewed online and via DVD purchase at www.calderaproductions.com and www.ferrettownmovie.com.
Contact Us
Institutional Communications
Bureau of Mines Building, Room 137
Laramie
Laramie, WY 82071
Phone: (307) 766-2929
Email: cbaldwin@uwyo.edu