Contact Us
Institutional Communications
Bureau of Mines Building, Room 137
Laramie
Laramie, WY 82071
Phone: (307) 766-2929
Email: cbaldwin@uwyo.edu
Thunström Finds Supportive Environment at UW
September 3, 2020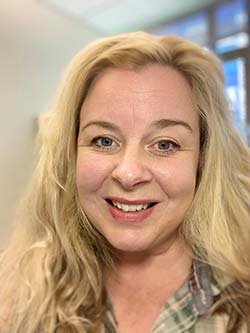 Linda Thunström
At age 14, Linda Thunström left her home country of Sweden for her first language trip to southern France. She traveled alone, spending a full month abroad.
After having such an enriching experience, she began spending every summer in a different location, learning new languages and getting to know different cultures. She spent time in several cities in France and Germany. She studied in England and South Africa. During graduate school, she traveled to the United States for the first time, spending a semester at the University of California-Berkeley.
Thunström now lives in Laramie and is an associate professor in the University of Wyoming's Department of Economics, where she motivates her students to find their passions through teaching and research. Her fondness for the small Wyoming town was unexpected, as she had preferred living in larger cities until moving to Laramie with her husband, Jason Shogren, a fellow UW economics professor.
"Our intent was not to stay in Laramie permanently," Thunström says. "I was a visiting professor in the Department of Economics and had a career in Stockholm, Sweden. However, like my husband, I fell in love with the department, the university and Laramie as a place to live. The opportunity opened up to join the department as a tenure-track professor, so we decided to stay. I am so happy we did."
Throughout her travels and her previous work for the Swedish government, Thunström has had the opportunity to observe the impact of policy. She's passionate about understanding how society may benefit from using policies wisely. Ultimately, her work strives to generate knowledge on how to create a better society.
"Economic research is meaningful," Thunström says. "It has a good chance to actually impact policy. It also is rational. It attempts to produce outcomes that consider all aspects of a problem."
Her work is as fascinating as it is bold. Thunström's research seeks to provide answers to questions that are often difficult for society to confront. It may be uncomfortable to put a price on sentiment, but her work exposes the changes necessary for societal advancement. Her research functions as a voice of clear rationality -- which is incredibly valuable in times of crisis.
For example, Thunström's work examines the price of thoughts and prayers offered to victims of tragic events. "Thoughts and prayers -- Do they crowd out donations?," published in the Journal of Risk and Uncertainty, addresses the controversy surrounding these gestures.
"It seemed, after every major catastrophe, we, as a society, would end up in the same discussion -- thoughts and prayers are helpful versus thoughts and prayers are meaningless, and may take away from actions that would be meaningful," she says. "So, there was this huge unresolved question about what these gestures really do, and it is an important one, given we so frequently use these gestures in conjunction with material help."
The research revealed that those who offer prayers in response to tragic events are less inclined to donate to support donation recipients. When prayer becomes a substitute for material help, it reduces monetary relief. However, this is not to say that thoughts and prayers are without value. They are valued by recipients -- if the recipients are Christian as well, as shown by another of her recent studies, published in the Proceedings of the National Academy of Sciences.
By assessing the cost of prayer, tangible figures can now be used to bring about real change. The appraisal of sentiment is complex and ambitious but, when done, it has tremendous power.
Recently, Thunström led the research on the benefits and costs of using social distancing to flatten the curve for COVID-19, a study that found that the economic benefits from lives saved by social distancing outweigh the nation's projected economic fallout by $5.2 trillion.
Thunström's research is a product of her passion and empathy. She credits part of her success to the supportive environment she's found at UW.
"I also have always felt supported by my department and the college, which has meant the world to me," Thunström says. "I have freedom to do my job the way I thought I could do it best, and that amount of support and confidence in my abilities generates a lot of job satisfaction and, I believe, feeds the inner drive to keep on doing great work and improve as an educator and researcher."
Contact Us
Institutional Communications
Bureau of Mines Building, Room 137
Laramie
Laramie, WY 82071
Phone: (307) 766-2929
Email: cbaldwin@uwyo.edu