Contact Us
Institutional Communications
Bureau of Mines Building, Room 137
Laramie
Laramie, WY 82071
Phone: (307) 766-2929
Email: cbaldwin@uwyo.edu
'Cowboy Cash' Program Benefits UW Students, Local Businesses
October 30, 2020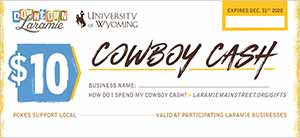 UW students who have purchased a university meal plan now can explore additional dining and shopping options with "Cowboy Cash."
The University of Wyoming has formed a partnership with Laramie Main Street Alliance to boost the Gem City's small-business economy.
The "Cowboy Cash" program will provide $50 in gift certificates to each student who lives on UW's campus and has purchased a university meal plan. Students will be provided with five certificates, broken out in $10 increments.
"Cowboy Cash" can be used through Dec. 31 at Laramie's small, locally owned businesses that are compliant with Albany County's COVID-19 health and safety guidelines.
"We're happy to work with Laramie Main Street Alliance to both boost local businesses and encourage responsible behavior amid the current pandemic," UW President Ed Seidel says. "The university and the broader Laramie community are inseparable partners, and the health of one is essential to the health of the other."
Like many small communities around the state and nation, Laramie businesses have struggled during the pandemic. UW has pledged $80,000 in federal CARES Act money to fund the program to simultaneously provide students with additional dining options and help offset the financial losses within the community.
Businesses that accept "Cowboy Cash" will be reimbursed the full value of the gift certificate. The program provides funding for UW students to help them connect with the community, while also providing local businesses with an influx of income during difficult financial times.
Each student who lives in the residence halls has purchased a meal plan, so resident assistants will be responsible for providing the "Cowboy Cash" certificates and additional information to their respective areas. UW's Division of Student Affairs will coordinate to share information and resources with the limited number of students who live off campus and have purchased meal plans.
The process for students to spend "Cowboy Cash" is simple and straightforward. To make a purchase, students will be required to show clearance to enter campus via COVID Pass, a health screening tool. Each student then will complete the written portion of the certificate, indicating the business where he or she is shopping or dining.
"Cowboy Cash" can be used for a wide variety of services in Laramie's local businesses, including food, goods or services.
The expiration date for all "Cowboy Cash" is Dec. 31 to provide businesses a financial boost before the end of the year. Students should visit Laramie Main Street Alliance's business directory to find a list of participating businesses.
In accordance with the recent rollout of the "Cowboys Can" campaign, UW students shopping and dining at Laramie's small businesses are reminded to continue to follow safe practices, including wearing of masks and social distancing.
"I am beyond grateful for this strategic partnership and investment from UW that ensures the vibrancy of our local economy," Laramie Main Street Alliance Director Trey Sherwood says. "'Shop Local' isn't just a catch phrase; it is a way of life when you are fighting to keep your doors open. As we head into the holiday season, we are excited to see students shopping small in our restaurants, with our retailers, and making appointments with our service providers."
If business owners have questions about how to accept "Cowboy Cash," they should email Sherwood at downtownlaramie@gmail.com or visit www.laramiemainstreet.org/gifts.
If students need more information regarding how to redeem the certificates, they should call UW Student Affairs at (307) 766-5123 or email studentaffairs@uwyo.edu.
Contact Us
Institutional Communications
Bureau of Mines Building, Room 137
Laramie
Laramie, WY 82071
Phone: (307) 766-2929
Email: cbaldwin@uwyo.edu