Contact Us
Institutional Communications
Bureau of Mines Building, Room 137
Laramie
Laramie, WY 82071
Phone: (307) 766-2929
Email: cbaldwin@uwyo.edu
Jill Aldridge Named UW Employee of Third Quarter
October 19, 2020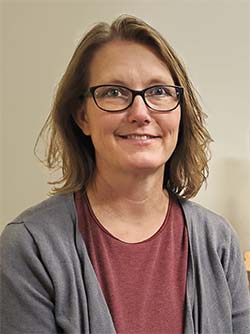 Jill Aldridge
University of Wyoming colleagues of Jill Aldridge say her warm personality and efficiency in getting difficult tasks done make UW Residence Life and Dining Services (RLDS) successful for the campus community.
These are just some of the reasons that Aldridge was named the UW Staff Employee of the Third Quarter. The award recognizes a UW staff member for his/her efforts toward excellence in the workplace.
Aldridge has worked at UW for three and a half years in the RLDS contracts division. She has been in her current position as contracts manager since January.
According to her nominators, Aldridge has stepped up to the plate each time a challenge is presented. She helps the division stay prepared and continue giving its best service to those who come in contact with RLDS.
"Jill has moved around to various positions and, despite the new roles and the tasks they bring, she continues to do excellent work and make the rest of our jobs easier," says one of her nominators.
Colleagues say she gives her best to every situation and makes sure each task is done with great importance. Aldridge's dedication to deliver the best to residents, staff and faculty through accurate and timely work is only matched by her positive attitude and her customer service skills.
"She is excellent to work with and puts a smile on everyone's face when they walk into the main office," a nominator says. "She is incredibly friendly and welcoming, and handles conflict or difficult situations easily."
Another nominator says she has influenced many students and helped make sure that they have a fulfilling experience when working with RLDS. She answers questions quickly and ensures that students are comfortable and taken care of.
"Without her, the processes of the division would not be possible. Now, being in a manager's role, she has come forth with many ideas and ways that our practices could be improved both internally and externally," a co-worker says. "Even with a diverse staff with very different working styles, she is truly seen as a joy to work with by absolutely everyone."
Aldridge says she is honored to receive this award and acknowledges the amazing RLDS staff she works with each day.
"From our dedicated dining staff and meticulous custodial crew, to our full-time live-in staff and energetic student staff, I truly believe we have some of the most dedicated and hard-working individuals on campus," Aldridge says. "This is what makes it so easy to fully enjoy my work and look forward to whatever new challenges each day may bring."
An Employee of the Quarter nominee can be any UW staff employee, and each must receive three nomination forms from three separate individuals. Nominations must be submitted to the Staff Senate office. The forms are on the web and can be found here.
For more information, call the Staff Senate office at 766-5300.
Contact Us
Institutional Communications
Bureau of Mines Building, Room 137
Laramie
Laramie, WY 82071
Phone: (307) 766-2929
Email: cbaldwin@uwyo.edu