Contact Us
Institutional Communications
Bureau of Mines Building, Room 137
Laramie
Laramie, WY 82071
Phone: (307) 766-2929
Email: cbaldwin@uwyo.edu
Donor Impact Doubled on Sixth Annual UW Giving Day
November 20, 2020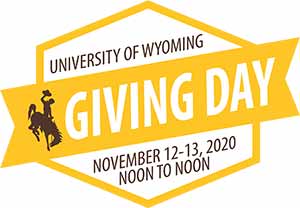 The University of Wyoming's sixth annual UW Giving Day broke new records, with more than double the number of donors and double the number of dollars received.
"This event continues to grow year after year," says Jack Tennant, the UW Foundation's director of annual giving. "Each year's growth of donors and dollars means more and more impact across campus. We couldn't be more pleased with the results."
This year's UW Giving Day raised $840,602 in gifts and pledges from 2,409 donors in 48 states and six countries. That's up from last year's total of $410,000 in annual gifts -- plus $1.2 million in major gifts -- from 1,110 donors.
The theme this year was "24 Means More," highlighting the impact a single 24-hour period can have on the university. Due in part to UW's COVID-19 phase plan, UW Giving Day was moved from Giving Tuesday to mid-November and ran from noon to noon, rather than midnight to midnight.
More than $250,000 in matching and challenge funds were available for donors to double the impact of their gifts and/or help unlock a challenge gift for a campaign -- more than ever before. This included $50,000 from the UW Foundation Board of Directors to match gifts starting at noon Nov. 12. This fund was matched by donors in less than 15 minutes.
At 5 p.m. Nov. 12, unit- or project-specific matching funds went live, and a surprise match was available at 6 a.m. Nov. 13 that was established by UW President Ed Seidel and his partner, Gabrielle Allen, and UW Foundation Board member and former board chair April Brimmer Kunz.
Donors who gave more than once were able to take advantage of more than one matching or challenge opportunity. Matching funds doubled or tripled the amount of a gift, and challenges were triggered when a campaign achieved a donor threshold.
"The addition of donor challenges really brought a level of excitement to this year's Giving Day," says Katherine Burke, manager of annual giving appeals at the UW Foundation. "Watching the donor leaderboard change throughout the day as the units competed to end the 24-hour period with the most donors was exhilarating. Watching donors be so involved and engaged in their unit's success is inspiring."
There were 51 campaigns that raised funding for all eight colleges and many other areas of campus, such as the Office of Student Success and Graduation, the Wyoming Institute for Humanities Research and the Food Share Pantry. The most money was raised by the College of Business at $149,030, followed by the Department of Athletics at $76,215 and the College of Engineering and Applied Science at $58,370.
"The UW Food Share Pantry team, along with the UW Food Security Task Force, offers our thanks to the many UW Cowboys who contributed to the UW Giving Day campaign," says Ryan O'Neil, dean of students. "The funds raised will allow us to continue to purchase perishable items, including fruit, vegetables, dairy, eggs and cheese. These fresh foods are essential to our goals of providing healthy food options and nourishing the members of our campus community."
New this year was a challenge to celebrate campaigns with the highest donor totals. The Overall Donor Challenge awarded $2,000 to the campaign with the most donors, $1,000 to second most and $500 to third most. For the third year in a row, Club Sports took first, while UW Rodeo and the College of Business took second and third, respectively.
UW is one of the first universities to accept cryptocurrency donations and to accept them on Giving Day. The 23 crypto gifts totaled $1,418 and unlocked a $20,000 crypto challenge fund. The majority of cryptocurrency gifts supported the UW Center for Blockchain and Digital Innovation, but they also went to support the College of Engineering and Applied Science, College of Education, the School of Nursing and the Precision Shooting Club student organization.
The UW Foundation spearheaded the effort. However, the collaborative energy of the entire campus contributed to the success of this year's effort. Seidel supported the efforts via video, and faculty, staff, administration and students used social media, publications and personal contacts to get the word out. Units across campus established unit matching funds, promoted their campaigns and touched base with their alumni and friends.
"The continued success of Giving Day has really been driven by this collaboration across campus," Tennant says. "As the UW Foundation, we see our role as building out the platform for so many areas that traditionally do not get the focus to have their cause heard. We also continue to hear great feedback from donors enjoying the new campaigns each year."
Contact Us
Institutional Communications
Bureau of Mines Building, Room 137
Laramie
Laramie, WY 82071
Phone: (307) 766-2929
Email: cbaldwin@uwyo.edu