Contact Us
Institutional Communications
Bureau of Mines Building, Room 137
Laramie
Laramie, WY 82071
Phone: (307) 766-2929
Email: cbaldwin@uwyo.edu
Former UW Engineering Faculty Member Receives ASCE Honor
November 10, 2020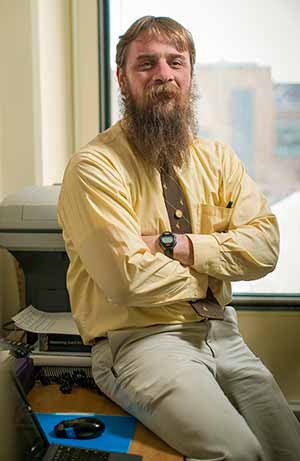 Ryan Kobbe
The American Society of Civil Engineers (ASCE) honored Ryan Kobbe with the 2020 President's Medal at the ASCE Annual Convention in October.
Kobbe, who serves as a structural engineer for the engineering firm T-O Engineers, was a recipient of the medal for his "dedicated service to ASCE student members, both as an inspirational University of Wyoming faculty adviser and as an astute leader and student advocate within the society."  
Instituted in 1986, this award is presented annually to not more than two individuals and recognizes the accomplishments and contributions of eminent engineers to the profession, the ASCE or the public. The award is conferred at the initiative of the society's president, with the concurrence of the executive committee, and consists of a bronze medal depicting the ASCE emblem and engraving identifying the award and the recipient.
Kobbe and his wife, Dea, returned to Park County in January when he accepted a position with T-O Engineers. Before returning home to the Big Horn Basin, Kobbe was a faculty member in UW's Department of Civil and Architectural Engineering from 2008-2019 as well as the faculty adviser to the university's ASCE student chapter.  
"Working with the students at UW will always be a bright spot in my professional career," Kobbe says. "I have always wanted to make a lasting difference as an engineer, and having the opportunity to influence the next generation of aspiring professionals provided a unique opportunity to do so."
Throughout Kobbe's time in this position, students were recognized nationally as finalists for the Robert Ridgway Award for the most outstanding student chapter (2016-18); the Region 7 Distinguished Chapter (2016-19); and earned multiple certificates of commendation, which represent the top 5 percent of all student chapters (2012, 2014-15). Additionally, students received recognition for community service benefiting others outside of their ASCE student chapter in 2015 and 2018, and won the Richard J. Scranton Outstanding Community Service Award in 2016.  
"Seeing my alma mater, and Wyoming in general, recognized as a special and exceptional place is very satisfying," Kobbe says. "I have always believed in the power of positivity and in building relationships, and this award is testament that this philosophy can take even small and unassuming groups to new heights."
As a consulting engineer, Kobbe looks forward to continuing to work with young professionals as he seeks to develop the structural services business line for T-O Engineers. While no longer in the classroom, Kobbe continues to support Wyoming's engineering community through his service as UW ASCE's practitioner adviser, president of the Wyoming Engineering Society and as an active member of the ASCE Wyoming Section.  
"The decision to return to consulting after a decade-long hiatus in academia was not an easy one to make. The primary driver was my desire to continue to evolve and learn new things," Kobbe says. "My hope was to have the opportunity to influence the next generation of professionals and leaders beyond the classroom, and I look forward to leading and learning from T-O's interns and engineers-in-training as we seek to solve new engineering challenges."
Contact Us
Institutional Communications
Bureau of Mines Building, Room 137
Laramie
Laramie, WY 82071
Phone: (307) 766-2929
Email: cbaldwin@uwyo.edu