Contact Us
Institutional Communications
Bureau of Mines Building, Room 137
Laramie
Laramie, WY 82071
Phone: (307) 766-2929
Email: cbaldwin@uwyo.edu
UW Names Okpodu as College of Arts and Sciences Dean
November 13, 2020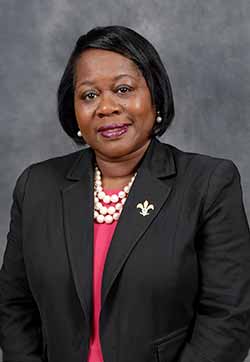 Camellia Okpodu
An accomplished scientist and experienced administrator has been selected as dean of the University of Wyoming's College of Arts and Sciences.
The appointment of Camellia Okpodu, currently dean of the College of Arts and Sciences at Xavier University of Louisiana, was approved today (Friday) by the UW Board of Trustees. She will take the reins of UW's largest academic college June 30, 2021.
"Dr. Okpodu has had an extraordinary career as a scientist, a deep history of working with land-grant institutions and historically black colleges and universities, and an outstanding record as a visionary and inspirational academic leader," Interim Provost Anne Alexander says. "I am excited to welcome her as our newest Cowgirl. Interim Dean Danny Dale, who has been an incredible leader during these difficult times, will continue to serve until her arrival."
Okpodu has served as dean of the College of Arts and Sciences at Xavier University of Louisiana since 2018. Before that, she spent 15 years at Norfolk State University in Norfolk, Va. -- as chair of the Biology Department; director of the National Institutes of Health Extramural Research Office; director of Defense Intelligence Agency Designated Intelligence Community Center of Academic Excellence; and director of the Group for Microgravity and Environmental Biology.
She began her academic career as an assistant professor at Hampton University in 1996, following a postdoctoral fellowship in plant molecular biology at Virginia Tech University. Her career also included an American Council on Education fellowship and the first endowed professorship at Elizabeth City (N.C.) State University.
"I am honored and ecstatic that I have been selected to serve as the dean of the College of Arts and Sciences at the University of Wyoming. I look forward to working with all stakeholders to support an environment in which our students can grow to meet the ever-changing demands of our local, national and international community," Okpodu says. "As I am reminded by Nelson Mandela, 'What counts in life is not the mere fact that we have lived. It is what difference we have made to the lives of others that will determine the significance of the life we lead.'"
Okpodu earned a bachelor's degree (1987) in biochemistry and a Ph.D. (1994) in plant physiology/biochemistry, both from North Carolina State University. Her research has focused on environmental topics including climate change, sea-level rise and coastal resiliency, and agriculture.
Contact Us
Institutional Communications
Bureau of Mines Building, Room 137
Laramie
Laramie, WY 82071
Phone: (307) 766-2929
Email: cbaldwin@uwyo.edu