Contact Us
Institutional Communications
Bureau of Mines Building, Room 137
Laramie
Laramie, WY 82071
Phone: (307) 766-2929
Email: cbaldwin@uwyo.edu
UW School of Pharmacy Selects New Manager for Education Review Programs
November 23, 2020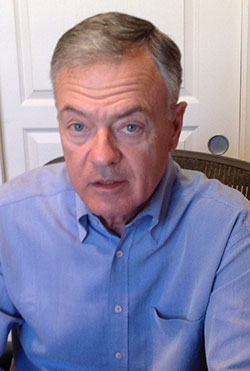 Bill Feinberg
An experienced businessman and registered pharmacist has been selected to serve as manager of a new project in the University of Wyoming School of Pharmacy related to preparation for national pharmacy licensure examinations.
Bill Feinberg recently joined the UW School of Pharmacy as manager of its Professional Education Review Programs project. Feinberg brings more than 30 years of business and pharmacy experience in developing and providing review courses for the North American Pharmacist Licensure Examination (NAPLEX), Multistate Pharmacy Jurisprudence Examination (MPJE) and the Foreign Pharmacy Graduate Equivalency Examination. All pharmacy graduates in all 50 states are required to complete these exams.
Additionally, as CEO of W-F Professional Associates Inc., Feinberg served as an Accreditation Council for Pharmacy Education-accredited provider of continuing pharmacy education. He specializes in creating and distributing pharmacy continuing education (CE) programs. Feinberg developed the CE-PRN Home-Study CE Program in 1979, which is still being published today.
"We are excited to have Bill join us at the UW School of Pharmacy," says Elliott Sogol, director of postgraduate and continuing education. "His expertise and knowledge in the industry are unsurpassed, and we look forward to providing this program to pharmacy students at UW and across the U.S."
Feinberg has provided consulting services to industry organizations in the areas of CE and informational communications. In this capacity, he has worked with professionals in all areas of pharmacy, including retail chains, associations, pharmacy schools, pharmaceutical manufacturers and pharmacy boards.
Feinberg also has contributed to national pharmacy industry trade journals. He has served as editor for Legal Aspects of Pharmacy Practice, Current Concepts in Retail Pharmacy Management and Rx Ipsa Loquitur. He has written "Pharmacy Law Examination and Board Review" and co-written "Lange Pharmacy Calculations Flash Cards" with Carmen Aceves Gordon.
"It's a real privilege to join the UW School of Pharmacy on this project," Feinberg says. "The commitment to excellence is our driving force to provide the best and most practical review programs for NAPLEX and MPJE."
Feinberg earned a B.S. in liberal arts from the University of Illinois at Urbana-Champaign and a B.S. in pharmacy from the University of Illinois-Chicago College of Pharmacy. He completed his MBA at Loyola University-Chicago Graduate School of Business. As a registered pharmacist, Feinberg has active licenses in Illinois, Arizona and Florida.
Contact Us
Institutional Communications
Bureau of Mines Building, Room 137
Laramie
Laramie, WY 82071
Phone: (307) 766-2929
Email: cbaldwin@uwyo.edu