Contact Us
Institutional Communications
Bureau of Mines Building, Room 137
Laramie
Laramie, WY 82071
Phone: (307) 766-2929
Email: cbaldwin@uwyo.edu
UW Faculty Member Named to EdTech Magazine's List of Higher Education Influencers to Follow
December 7, 2020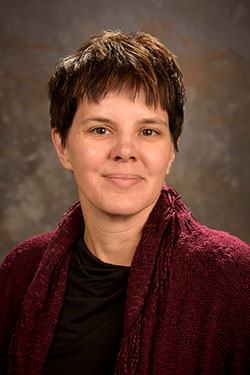 Leigh Hall
Leigh Hall, a University of Wyoming professor of adolescent literacy, was recently named to EdTech Magazine's "2020 Dean's List: 30 Higher Ed IT Influencers Worth a Follow." The list compiles social media influencers in higher education who are using social and digital media to inform, engage and inspire their colleagues in the field.
Hall, the Wyoming Excellence in Higher Education Endowed Chair in Literacy Education, was included on the list for her YouTube channel and blog called Teaching Academia, where she posts a video each Monday with tips to help graduate students and beginning assistant professors navigate academia. Videos provide specific tools, techniques and guidance from her personal experience to help academics improve their scholarship, teaching and service activities in ways that will help them get the most out of their careers.
"I had really good mentors throughout my academic life but later learned that many in academia did not," Hall says. "This inspired me to create a channel that provides insider information that will make students and faculty more confident, and make them more comfortable and successful in their roles."
By being vulnerable and openly discussing the hardships many academics face, Hall is able to normalize those struggles and connect with her audience in authentic ways.
"There are a lot of things in this profession that can lead people to think they are not good enough or that everyone else is succeeding when they are not," Hall says. "I want people to understand they are not the only ones experiencing those feelings and help them overcome the challenges they encounter."
The channel goes beyond providing basic mentorship. Hall has developed it to also be an opportunity for viewers to gain experience and confidence by sharing their own expertise. Viewers will reach out about particular topics that they are passionate about. If the topic is relevant, Hall will invite them to join her on a video to discuss the topic.
These opportunities have resulted in lasting connections, and Hall has expanded her professional network across the world. These connections have resulted in new collaborations and even invited international presentations for Hall at other universities.
If you are an early career academic or are interested in getting a look behind the curtains of academia, view the Teaching Academia videos at www.youtube.com/channel/UCTKjguKPmP076wrShnMeGoQ.
Contact Us
Institutional Communications
Bureau of Mines Building, Room 137
Laramie
Laramie, WY 82071
Phone: (307) 766-2929
Email: cbaldwin@uwyo.edu