Contact Us
Institutional Communications
Bureau of Mines Building, Room 137
Laramie
Laramie, WY 82071
Phone: (307) 766-2929
Email: cbaldwin@uwyo.edu
UW Residence Coordinator Wins Outstanding Entry-Level Professional Award
December 4, 2020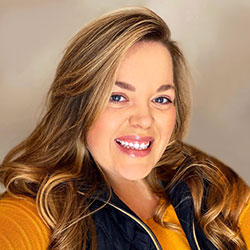 Taryn Wright
Taryn Wright, residence coordinator for White Hall and Hill Hall at the University of Wyoming, recently received the Outstanding Entry-Level Professional Award.
The award is presented each year to a housing professional who is currently working in a hall director, administrative assistant, occupancy manager or equivalent position at an Association of Intermountain Housing Officers (AIMHO) member school.
"I am honored to have received the Outstanding Entry-Level Professional Award, but I am especially grateful for the opportunities I have been given at UW," Wright says. "I have truly found my place here and am surrounded by students and staff who inspire me -- both personally and professionally on a daily basis."
The award recognizes a housing professional who "significantly contributes to the housing and residence life profession by demonstrating excellence in overall job performance; providing exemplary leadership and care; displaying initiative; and going above and beyond to provide a memorable experience for  students." The award encompasses outstanding efforts and work from the previous year's AIMHO conference to the current conference.
"I am incredibly passionate about fostering a community that truly feels like home for our students, and I have been so impressed with their unbendable optimism and resilience, especially throughout this year," Wright says. "There is just something so special about the Cowboy way, and I am honored to put Wyoming on the map for our region."
Wright began working as the residence coordinator for White Hall in July 2018 and then added Hill Hall in August.
One of Wright's resident assistants (RAs) nominated her for the award. The nominator says Wright genuinely cares for students, and her positive attitude makes White Hall a great place to live.
"Every person matters in her eyes. She sees value in everyone whether it be the star athlete or the resident coming in for the fourth conduct meeting," the nominator says. "She knows everyone is a work in progress and, if she can be any part of their journey, she's happy."
Her nominator says Wright has an open door policy; shows unconditional positive regard toward everyone she meets; and knows how to make deep connections with her staff and the students living in the residence halls.
"Her passion and enthusiasm for this job, her RAs and the students who are fortunate enough to live in White Hall are inspiring and infectious," her nominator says. "To say she is just outstanding would be an understatement."
About AIMHO
AIMHO works for the continual improvement and coordination of housing and food service operations for students and staff members in institutions of higher learning. The association represents 97 member institutions in Arizona, Colorado, Idaho, Montana, Nevada, New Mexico, Utah, Wyoming and Saskatchewan, Canada.
AIMHO held its first annual conference in 1956 at UW.
Contact Us
Institutional Communications
Bureau of Mines Building, Room 137
Laramie
Laramie, WY 82071
Phone: (307) 766-2929
Email: cbaldwin@uwyo.edu