Contact Us
Institutional Communications
Bureau of Mines Building, Room 137
Laramie
Laramie, WY 82071
Phone: (307) 766-2929
Email: cbaldwin@uwyo.edu
Exonerated 'Central Park Five' Member Keynote Speaker for MLK Events at UW
January 28, 2021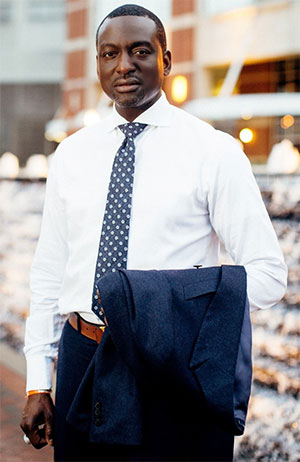 Yusef Salaam
A member of the "Central Park Five" who was wrongfully convicted of raping a white female jogger in 1989 is the keynote speaker for the virtual Martin Luther King Jr. Days of Dialogue (MLK DOD) Feb. 8-12 at the University of Wyoming.
Yusef Salaam, who was 15 at the time, served six years and eight months in a juvenile facility before the five teenagers' sentences were overturned in 2002. He will discuss the case and his work Tuesday, Feb. 9, at 5:30 p.m. The link to view the presentation will soon become available on the MLK DOD website.
Through this annual week of programming, UW celebrates the continuing impact of King's life and ideals. The MLK DOD tradition is intended to expand institutional and community awareness about issues of diversity and social justice, to foster an inclusive community, and to empower individuals to act in solidarity with Black lives and marginalized communities, say Erin Olsen Pueblitz and Melanie Vigil, co-directors of this year's event.
On April 19, 1989, a young white woman was brutally raped and left for dead in New York City's Central Park. Five teenage boys -- four Black and one Latino -- were tried and convicted of the crime. The case rocked the city, and they became known collectively as the "Central Park Five."
After the five spent between seven and 13 years of their lives behind bars, unidentified DNA in the Central Park jogger case -- unlinked to any of the five -- was finally matched to a convicted murderer and serial rapist who confessed. The convictions of the boys, now men, were overturned.
In 2014, the five received a multimillion-dollar settlement from New York City for the grievous injustice.
Since his release, Salaam, now 47, has committed himself to advocating and educating people on the issues of false confessions; police brutality and misconduct; press ethics and bias; race and law; and the disparities in the U.S. criminal justice system.
Salaam received a President's Lifetime Achievement Award in 2016 from then-President Barack Obama, and was awarded an honorary doctorate of humanities from Anointed by God Ministries Alliance and Seminary in 2014. Salaam was appointed to the Board of Directors of the Innocence Project -- a nonprofit legal organization that is committed to exonerating individuals who it claims have been wrongly convicted -- in 2018. He currently resides in Atlanta, Ga., and is a motivational speaker.
Director Ava DuVernay's critically acclaimed four-part miniseries, "When They See Us," focusing on the Central Park Five's plight, debuted on Netflix in 2019. The series received 16 Primetime Emmy Award and Primetime Creative Arts Emmy Award nominations, winning two. "When They See Us" was named Best Limited Series at the Critics' Choice Awards.
In 2013, noted documentarians Ken and Sarah Burns released the documentary "The Central Park Five," which told of the travesty from the perspective of Salaam and the four others accused.
Contact Us
Institutional Communications
Bureau of Mines Building, Room 137
Laramie
Laramie, WY 82071
Phone: (307) 766-2929
Email: cbaldwin@uwyo.edu