Contact Us
Institutional Communications
Bureau of Mines Building, Room 137
Laramie
Laramie, WY 82071
Phone: (307) 766-2929
Email: cbaldwin@uwyo.edu
Gifford Moving to New Role in UW's Office of the President
February 24, 2021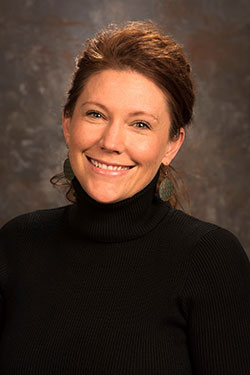 Mandy Gifford
The University of Wyoming's Office of the President has rounded out its internal team with the selection of Mandy Gifford as the executive administrative associate.
In that position, she will serve senior administrative leadership by handling daily operational needs in the president's office, working closely with the chief of staff and members of the president's cabinet. She begins her new role March 1.
"We are excited to have such a well-known and respected UW community member join our team," Chief of Staff Mary Ivanoff says. "Mandy brings the benefit of her many campus relationships and engagements to the Office of the President. Many people will recognize her not only for her professional efforts at UW, but also her personal passion toward bettering the UW community."
A dual UW graduate in religious studies and criminal justice, Gifford most recently has served as the executive assistant to the provost and vice president for academic affairs. Before that, she held multiple roles in the Haub School of Environment and Natural Resources, including academic advising manager and special events coordinator.
During her time at the Haub School, Gifford played a key role in starting the first UW Food Share Pantry. That work has now grown into multiple areas of support across campus for members of the UW community experiencing food insecurity.
Contact Us
Institutional Communications
Bureau of Mines Building, Room 137
Laramie
Laramie, WY 82071
Phone: (307) 766-2929
Email: cbaldwin@uwyo.edu