Contact Us
Institutional Communications
Bureau of Mines Building, Room 137
Laramie
Laramie, WY 82071
Phone: (307) 766-2929
Email: cbaldwin@uwyo.edu
UW Assistant Professor Receives National Recognition for Research Article
February 17, 2021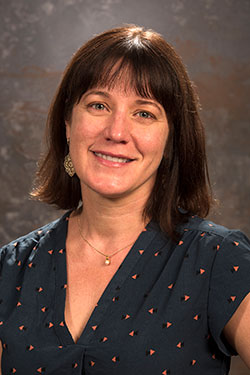 Sandra Leotti
A University of Wyoming assistant professor's research article has received national recognition by the University of Chicago Press Journals.
Sandra Leotti, in UW's Division of Social Work, was awarded the 2021 Frank R. Breul Memorial Prize for her submission, titled "The Discursive Construction of Risk: Social Work Knowledge Production and Criminalized Women." The prize is awarded annually for what is judged to be the best article published in Social Service Review in the preceding year.
Leotti's article examines how knowledge production within social work privileges a psychological discourse, relying on individual explanations for crime and criminalization above all other possible explanations -- specifically, that social work passively accepts the logic of punishment rather than challenging the inequitable social conditions that lead to mass incarceration.
She says this presents a profound ethical dissonance between social work's engagement with criminalized populations and the social work value of social justice.
"When we hear of mass incarceration, the focus is usually on prison. Though analysis of the prison is important, I am more interested in the ways in which criminalization extends beyond the immediate boundaries of the criminal legal system and intersects with other systems," Leotti says. "Scholars now use the term 'carceral state' to highlight the multiple intersecting agencies and institutions that have punishing functions and serve to regulate marginalized communities."
These include such things as child welfare, public education, and health and human services -- all spheres in which social work plays an obvious role.
"Accordingly, I was interested in how the profession participates in maintaining or resisting the carceral state," Leotti adds.
Examining social work's role in the carceral state, extending beyond incarceration and into the multitiered human welfare system, has led Leotti to understand a need for changing perceptions in how social workers interact -- not only with individuals, but also with an institutionalized welfare state. She sees a fundamental crisis in contemporary social work.
Discourses of individuality and personal responsibility are ill suited for addressing the harms caused by the carceral state and, when deployed through the process of knowledge production, serve only to deepen social work's participation in it, she adds. Thus, social work is implicated in processes of criminalization and propels a shift in emphasis from individualized service delivery, aimed at changing the behavior of individuals, to launching interventions that tackle structural injustice and inequity.
Leotti's research seeks to disrupt commonly accepted narratives within social work about crime and criminalized populations and hold social work accountable for practices that perpetuate oppression, particularly where issues of gender, race, class and disability are concerned.
"It's incredibly humbling and encouraging to be acknowledged in this way by such a reputable journal in my field," Leotti says. "Of course, I am personally honored, but also it feels like there is important symbolic significance in having a piece of work that challenges mainstream thinking within the profession recognized in this way. It gives me hope that there is space within social work for meaningful dialogue on generating a social landscape in which people can thrive and imagining nonpunitive responses to social problems."
Contact Us
Institutional Communications
Bureau of Mines Building, Room 137
Laramie
Laramie, WY 82071
Phone: (307) 766-2929
Email: cbaldwin@uwyo.edu