Contact Us
Institutional Communications
Bureau of Mines Building, Room 137
Laramie
Laramie, WY 82071
Phone: (307) 766-2929
Email: cbaldwin@uwyo.edu
UW Extension to Debut Financial Know-How Video Series Monday
February 18, 2021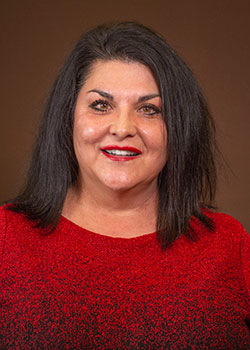 Michelle Vigil
A series of brief videos addressing financial issues Wyoming residents face begins Monday.
"Michelle's Monday Minute" will debut on the University of Wyoming Extension Facebook page by Michelle Vigil, a UW Extension community development educator.
"Since Wyoming is facing many challenges in the economic realm, I wanted to offer one- to three-minute videos on a variety of money subjects," says Vigil, who is based in Campbell County and serves northeastern Wyoming.
Series topics will not include investing, but rather general money topics with a seasonal twist, such as college planning in January or going back to school in August.
Subjects include tax changes for 2021, budgeting, debt repayment, financial emergencies, saving, making extra money, home buying, retirement, fraud, college planning and student loans, bill prioritization, and work and money.
"With each video, look for two to three helpful tips and a resource each week," Vigil says.
Links to resources will be included in the postings.
Vigil also will highlight UW Extension financial informational programs, such as the Master Money Coach, Tax Facts, Money Talk and the community development education team's Facebook Live video series.
Contact Us
Institutional Communications
Bureau of Mines Building, Room 137
Laramie
Laramie, WY 82071
Phone: (307) 766-2929
Email: cbaldwin@uwyo.edu