Contact Us
Institutional Communications
Bureau of Mines Building, Room 137
Laramie
Laramie, WY 82071
Phone: (307) 766-2929
Email: cbaldwin@uwyo.edu
National Engineering Leader to Join UW as Strategic Adviser
March 5, 2021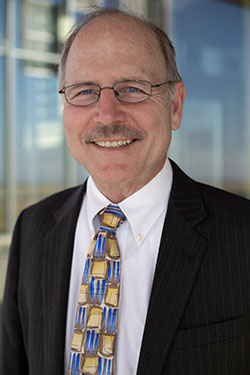 Tom Peterson
A distinguished national engineering leader has agreed to join the University of Wyoming as a senior strategic adviser to President Ed Seidel for science, technology and engineering.
Tom Peterson, most recently the provost and executive vice chancellor at the University of California-Merced, will assist the faculty and university leadership in building interdisciplinary technology, science and engineering research and education programs at UW. The position, which begins July 1, also carries the title of visiting professor in the dean's office of UW's College of Engineering and Applied Science.
"I'm delighted that Tom has agreed to advise us as we take the next steps toward achieving the vision of UW's Tier-1 Engineering Initiative," Seidel says. "He has an exceptional record of national leadership in engineering, and in university administration across all areas. I'm confident his expertise, connections and insights will help us move forward and reach new levels of excellence."
Before taking the leadership position at UC-Merced, Peterson held leadership roles at the National Science Foundation (NSF), including brief service as acting chief operating officer and a four-year term as NSF assistant director, leading the Directorate for Engineering with an annual budget of approximately $700 million. In that role, he oversaw a major portion of the entire federal government's engineering research portfolio and national efforts to educate and develop the nation's engineering workforce, leading national initiatives in advanced manufacturing, robotics, engineering research centers and small business innovation research.
From 1998 to 2009, he was dean of the College of Engineering at the University of Arizona. His career also includes short-term roles at the Massachusetts Institute of Technology, the University of Duisburg in Germany, Sandia National Laboratories and Motorola. He earned his Ph.D. at the California Institute of Technology, a master's degree at the University of Arizona, and a bachelor's degree at Tufts University, all in chemical engineering.
"I am very much looking forward to working with the president and the faculty, particularly in the College of Engineering and Applied Science, but I hope throughout the institution as well," Peterson says.
Peterson will work closely with Cameron Wright, acting dean of the College of Engineering and Applied Science, to help the faculty rethink and build strength in the college and related units. The objective is a renewed focus on excellence in research and education, through UW's Tier-1 Engineering Initiative and other programs that will emerge from UW's current strategic planning process. Peterson will focus on the interdisciplinary connection among relevant science, engineering, technology and related economic development units at UW, working with the senior leadership of the university to conceptualize and execute plans to grow UW strengths and programs in these areas.
"Notwithstanding the serious financial challenges facing our state and university, we have some tremendous opportunities to develop new programs and initiatives, through both public- and private-sector partnerships, to propel the state's workforce and economy," Seidel says. "Tom's career trajectory has given him experience in these areas, and I'm looking forward to working with him, our UW team and others to both serve our state and raise our national profile."
At the national level, Peterson has interacted with the White House as a member of the National Science and Technology Council's Committee on Technology and Committee on Homeland and National Security. He has testified before congressional committees regarding K-12 engineering education, technology transfer and scientific innovation, among other topics.
A fellow of the American Institute of Chemical Engineers, he has served in various roles with ABET (formerly called the Accreditation Board for Engineering and Technology), the American Society for Engineering Education, the American Institute of Chemical Engineers and the Council for Chemical Research.
Contact Us
Institutional Communications
Bureau of Mines Building, Room 137
Laramie
Laramie, WY 82071
Phone: (307) 766-2929
Email: cbaldwin@uwyo.edu