Contact Us
Institutional Communications
Bureau of Mines Building, Room 137
Laramie
Laramie, WY 82071
Phone: (307) 766-2929
Email: cbaldwin@uwyo.edu
UW Names Carman Provost/Senior Vice President for Academic Affairs
March 10, 2021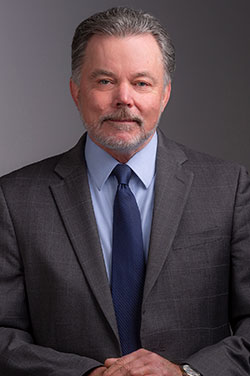 Dr. Kevin Carman
A distinguished scholar and administrator who led academic and research improvements at the University of Nevada, Reno (UNR) has been selected as the University of Wyoming's provost/senior vice president for academic affairs.
Dr. Kevin Carman, who was the executive vice president and provost at UNR from 2013-2020, will begin his duties at UW in June. His appointment to UW's second-ranking leadership position was approved today (Wednesday) by the university's Board of Trustees.
"The University of Wyoming is fortunate to be adding such an experienced academic administrator of Dr. Carman's breadth and expertise to our team," says UW President Ed Seidel. "Having served for the past eight years as the executive vice president and provost of the University of Nevada, Reno and as dean of the College of Science for nine years at Louisiana State University, Dr. Carman is uniquely qualified to address many of the circumstances and challenges which UW is faced with at this point in our history. His extensive leadership experience and accomplishments, coupled with a proven record as an innovative leader committed to an interdisciplinary and collaborative approach across the spectrum of academic affairs at land-grant institutions, will benefit all areas of our university."
During his leadership tenure at UNR, when the university experienced significant enrollment growth, Dr. Carman oversaw the university's eight academic colleges and schools, the Graduate School, the Division of Extended Studies and University Libraries. He also had responsibility for the Office of Information Technology. He served as the university's chief executive officer when the president was away. 
Among his accomplishments: establishing five-day academic "boot camps" for incoming freshmen that improved retention and degree completion; leading a comprehensive revision of the undergraduate core curriculum; launching several online master's degree programs; and leading a collaborative process to update the university's comprehensive master plan and strategic plan that included goals of being recognized as a Carnegie R1 University as well as a Carnegie Community Engaged University. UNR's goal of achieving R1 status was realized in 2018, and UNR's application for the Community Engaged designation was approved in 2019.
"I am very excited to join the leadership team at the University of Wyoming and am grateful for the opportunity to do so," Dr. Carman says. "During my visit to Laramie, I was very impressed by the beautiful Wyoming campus and, more importantly, by the enthusiasm for and pride in UW that is evident among faculty, staff and students. President Seidel has articulated an ambitious agenda for UW, and I am confident that good things are ahead for the university and the state of Wyoming."
Dr. Carman was a faculty member at Louisiana State University in the Department of Biological Sciences for 24 years. He served as interim dean and then dean of the LSU College of Science for nine years before his move to UNR.
He earned his undergraduate degree in biology from McPherson College in 1982, and he received master's and doctoral degrees in biological oceanography from Florida State University in 1984 and 1989. His research is in the area of marine benthic ecology and ecotoxicology. He has published 65 peer-reviewed journal articles and book chapters, and his research has been supported by approximately $9.6 million from a variety of funding agencies.
Dr. Carman is married to Dr. Susan Welsh and has two grown children, Glenn and Sarah.
Dr. Carman is a Fellow of the American Association for the Advancement of Science. He has previously served on the editorial board of International Scholarly Research Network Oceanography and as subject editor for Aquatic Microbial Ecology.
The appointment of Dr. Carman completes a search process that began in September involving a 24-member committee chaired by Seidel and College of Engineering and Applied Science Acting Dean Cameron Wright.
"I want to thank the committee for all the hard work they put into the provost search," Seidel says. "It resulted in a truly talented and impressive field of candidates that culminated in four terrific finalists interviewing on our campus last month. I also want to thank Anne Alexander for the tremendous job she continues to do as interim provost, and I look forward to continuing to work with her in the future."
Contact Us
Institutional Communications
Bureau of Mines Building, Room 137
Laramie
Laramie, WY 82071
Phone: (307) 766-2929
Email: cbaldwin@uwyo.edu