Contact Us
Institutional Communications
Bureau of Mines Building, Room 137
Laramie
Laramie, WY 82071
Phone: (307) 766-2929
Email: cbaldwin@uwyo.edu
UW Symphonic Band Virtual Spring Concert Today
March 22, 2021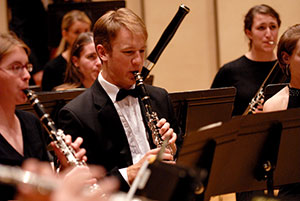 The University of Wyoming Symphonic Band will present its spring concert virtually today (Monday) at 7:30 p.m. (UW Photo)
The University of Wyoming Symphonic Band will present its spring concert virtually today (Monday) at 7:30 p.m.
For access to the free livestream, go to www.youtube.com/watch?v=S94gr3fisMs.
UW Conductor Joseph Carver and Zach Tolman, a UW graduate conductor, will lead the year-end concert.
The UW Woodwind Ensemble will present Serenade, Op. 22 by Derek Bourgeois, adapted for flex band by Michael Brand, and "This Cruel Moon" by John Mackey, arranged by Patrick Dunnigan.
The UW Brass Ensemble will perform "Dusk" by Steven Bryant and "Amparito Roca" by Jaime Texidor, arranged by James Curnow.
Contact Us
Institutional Communications
Bureau of Mines Building, Room 137
Laramie
Laramie, WY 82071
Phone: (307) 766-2929
Email: cbaldwin@uwyo.edu