Contact Us
Institutional Communications
Bureau of Mines Building, Room 137
Laramie
Laramie, WY 82071
Phone: (307) 766-2929
Email: cbaldwin@uwyo.edu
Jess Willford Named UW Employee of First Quarter
April 19, 2021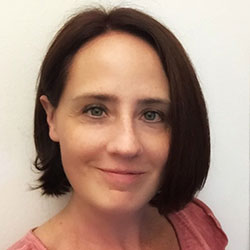 Jess Willford
A program manager who oversees initiatives that benefit members of the campus community is the recipient of the University of Wyoming's Staff Employee of the First Quarter Award.
Jess Willford is a manager in the LeaRN Program, a unit of the Office of Academic Affairs. She has served in various roles in the program, where she has worked since 2005. Before then, she was a student in the Department of Anthropology. She earned her bachelor's degree in anthropology in 2004 and her master's degree in higher education administration in 2019, both from UW.
In her current position, she manages the STEP Tutor Center and academic support programs.
Last year, she added the Early Alert program to her job duties. Early Alert is a program that allows faculty members to provide academic feedback on student performance during the fourth week of classes. The purpose is to give students a snapshot of their early performance so they can seek help before it is too late to impact their final grade.
"Until recently, UW's Early Alert system has been a great idea but without much guidance," a colleague says. "Jess began working with Early Alert to make it a much more effective process for faculty and a more useful tool for students. When a student receives an Early Alert notice, she sends a personalized and customized email with academic resources that can help."
An initiative Willford helped to launch this semester is CircleIn, a study group app that helps students be more productive and collaborative, and accelerates their learning.
"She spent many hours working with people from CircleIn to help them understand UW's needs," a colleague says. "She spent time working with campus partners, faculty and advisers to help everyone understand how CircleIn works, and why everyone should promote it to students. Without her, the rollout of CircleIn would not have gone as smoothly."
Willford coordinated the project with Richard Miller, UW's Advising, Career and Exploratory Studies associate director.
"We were excited to see that 25 percent of all UW students had downloaded CircleIn by week one of the semester and, now, over 4,000 students have downloaded the app," Willford says.
She also has centralized most UW tutoring to a single appointment-taking app, Penji, which allows for online and in-person tutoring sessions.
A nominator praises Willford for the high-caliber work she performs.
"She improves the lives of first-year students, as well as the University of Wyoming community, because of her many programs she supervises and runs with near-perfect execution," her nominator says.
Another nominator agrees.
"She sees a project through from beginning to end and never lets anything fall by the wayside," the nominator says. "She's quick to respond to emails and insists on communication that is clear and effective." 
A colleague says Willford's work in the LeaRN Program directly impacts more than 1,000 students each semester, and she doesn't take that responsibility lightly.
"She works quickly and efficiently, but she takes time to think about how her decisions could impact UW students," the colleague says.
Willford notes it is special to receive the award as she celebrates 15 years working at UW.  
"Being honored as Employee of the First Quarter means that not only has my work held value, but it's also helped students in a way that I hoped it would," Willford says. "I am so thankful for my co-workers and peers who nominated me for this honor. They are the best people on campus and provide so much camaraderie and support. I am lucky to be a part of their team. I am thankful, too, for my employees. Without their absolute awesomeness, it would not be possible for me to do half of what I'm able to do."
An Employee of the Quarter nominee can be any UW staff employee, and each must receive three nomination forms from three separate individuals. Nominations must be submitted to the Staff Senate office. The forms are on the web and can be found here.
For more information, call the Staff Senate office at 766-5300.
Contact Us
Institutional Communications
Bureau of Mines Building, Room 137
Laramie
Laramie, WY 82071
Phone: (307) 766-2929
Email: cbaldwin@uwyo.edu