Contact Us
Institutional Communications
Bureau of Mines Building, Room 137
Laramie
Laramie, WY 82071
Phone: (307) 766-2929
Email: cbaldwin@uwyo.edu
UW Faculty Member Explores How Discrimination Affects Wellness in BIPOC Students
April 26, 2021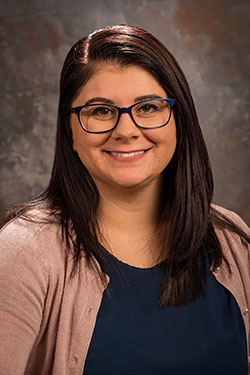 Amanda DeDiego
Assistant Professor Amanda DeDiego, who teaches at the University of Wyoming-Casper, was a co-author of a recently published article examining how discrimination experienced by counseling students who identify as Black, Indigenous or people of color (BIPOC) can negatively affect their wellness.
The article, "Examining Wellness, Burnout and Discrimination Among BIPOC Counseling Students," was published in the Journal of Multicultural Counseling and Development April 6. The authors explored how discrimination can lead to emotional, mental and physical exhaustion in BIPOC counseling students, which can affect their ability to provide top-notch care to their clients and might ultimately cause them to leave the field.
"It is really important to understand how to provide support to our students and community members who hold identities that are different from our own. This is a core ethical responsibility of professional counselors and counselor educators," DeDiego says.
The research suggests that it is important for counselor preparation programs to prioritize the wellness of students and faculty. It is particularly important to implement strategies to support the wellness of BIPOC students to help recruit and retain these students and support diversity in the counseling field. To achieve this, counselor educators must increase their own knowledge and awareness of the experiences of BIPOC students so they can tailor wellness initiatives that meet the specific needs of BIPOC students.
Dareen Basma, a psychotherapist and licensed professional counselor-mental health service provider at Carnegie Mellon University, and Eric Dafoe, a former counseling instructor at UW-Casper, were partners on the research. The work was supported by a research grant provided by Chi Sigma Iota.
DeDiego and her co-authors are continuing their work by exploring the factors that impact wellness for counselors who are immigrants to the U.S. This new research is being supported by a grant recently awarded through the UW Social Justice Research Center.
Licensed mental health professionals who have at least a master's degree, identify as immigrants and currently live in the U.S. can participate in the study. For more information or to participate, go here.
Contact Us
Institutional Communications
Bureau of Mines Building, Room 137
Laramie
Laramie, WY 82071
Phone: (307) 766-2929
Email: cbaldwin@uwyo.edu