Contact Us
Institutional Communications
Bureau of Mines Building, Room 137
Laramie
Laramie, WY 82071
Phone: (307) 766-2929
Email: cbaldwin@uwyo.edu
UW Faculty Member Invited to Participate in Literacy Research Survey
April 12, 2021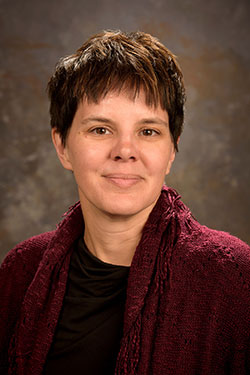 Leigh Hall
Leigh Hall, a University of Wyoming professor of adolescent literacy, has been invited to participate in the International Literacy Association's annual "What's Hot in Literacy" survey for 2021.
Hall, the Wyoming Excellence in Higher Education Endowed Chair in Literacy Education, is one of only 25 researchers worldwide selected to serve in this role, which is a top honor for literacy researchers. The survey helps literacy researchers, educators and policymakers identify emerging trends and current issues in the field of literacy.
"I'm hopeful that my participation with this survey can contribute to the larger discussion of the kinds of research we need to be doing in literacy education," Hall says. "This survey has the potential to shape what gets prioritized in literacy research and make an impact on the experiences students have in school."
Hall and the other survey respondents will rate a list of topics as "hot" or "not hot" to measure the amount of attention the item is currently receiving in the field. A rating of "hot" identifies the item as being a major topic of discussion in conferences, professional development workshops and educator publications. The respondents also rank each topic "should be hot" or "should not be hot." The results are then categorized into three levels: extremely hot or cold, very hot or cold, or hot or cold.
Participants are selected by purposive sampling. This nonrandom technique allows researchers to make deliberate choices in inviting participants based on knowledge, experience and significant influence in the field. It also aims to capture the diversity within a population by using specific inclusion and exclusion criteria.
The survey was first published in 1997 in the International Reading Association's newsletter, Reading Today. Since 2017, the annual survey results have been published in the journal Literacy Research and Instruction by the Association of Literacy Educators and Researchers. The results from the 2021 survey will be published in the fall.
Contact Us
Institutional Communications
Bureau of Mines Building, Room 137
Laramie
Laramie, WY 82071
Phone: (307) 766-2929
Email: cbaldwin@uwyo.edu