Contact Us
Institutional Communications
Bureau of Mines Building, Room 137
Laramie
Laramie, WY 82071
Phone: (307) 766-2929
Email: cbaldwin@uwyo.edu
UW Faculty Member Receives Award to Create Online Lab for School Counselors
April 5, 2021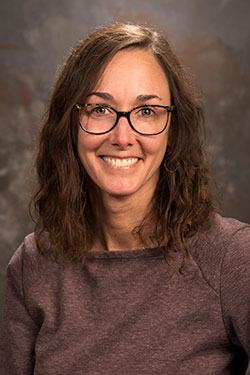 Lindsey Nichols
An associate professor in the University of Wyoming College of Education's School of Counseling, Leadership, Advocacy and Design will develop resources for the state's school counselors after being named the college's Patricia McClurg Education Faculty Fellow for 2021-23.
Lindsey Nichols received the award named in honor of McClurg, a former faculty member and dean of the college. The fellowship fund was established to award associate professors as they continue their growth and excellence in research.
Nichols is working with UW Libraries and other partners to create an online school counseling learning lab where school counseling and mental health resources, programs and research will be showcased.
"We hope to stimulate interest from prospective students while supporting current students, alumni and related guests with a host of resources," Nichols says. "This will be an exciting platform for the school counseling program, as research inspired by the lab will reflect a wide range of topics in counseling and education -- from best practices, teaching and learning strategies to creative curriculum and activity development from students."
Nichols says there's a need in Wyoming communities for a better understanding of what rural school counselors and school mental health professionals need to be successful. In addition to sharing existing resources, the online platform will create opportunities for community-based, participatory research projects.
She expects to launch the program this fall.
Nichols holds a Ph.D. in counselor education and supervision from Pennsylvania State University; a master's degree in school counseling from the University of North Carolina-Chapel Hill; and a master's degree in history and social sciences education and a bachelor's degree in history, both from the University of Connecticut. She joined UW's faculty in 2019 after seven years at the University of Montana.
Contact Us
Institutional Communications
Bureau of Mines Building, Room 137
Laramie
Laramie, WY 82071
Phone: (307) 766-2929
Email: cbaldwin@uwyo.edu