Contact Us
Institutional Communications
Bureau of Mines Building, Room 137
Laramie
Laramie, WY 82071
Phone: (307) 766-2929
Email: cbaldwin@uwyo.edu
UW Student's Research into Upper Green River Basin Water Demand Issues Earns Outstanding Thesis Honor
April 30, 2021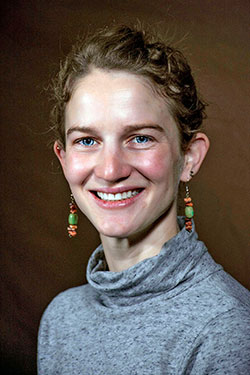 Ellen Yeatman
A study by a University of Wyoming agricultural and applied economics student exploring a proposed water demand management program on the Upper Green River Basin has received the Western Agricultural Economics Association (WAEA) Outstanding Master's Thesis Award.
The thesis by Ellen Yeatman, a College of Agriculture and Natural Resources master's student, titled "Ranch-level Economic and Ecological Tradeoffs of Water Demand Management in the Upper Green River Basin," examines a program that would try to alleviate the water supply and demand imbalance within the Colorado River Basin.
"The Upper Basin states are currently working right now to figure out what are the best ways to meet their obligations to the Colorado River Compact to the Lower Basin states to not deplete the river," says Kristi Hansen, an associate professor in the Department of Agricultural and Applied Economics. "Basically, Ellen is looking at a new kind of conservation program that policymakers are considering for the region."
Many ranchers and irrigators in southwest Wyoming use flood irrigation, which causes concern for how a water conservation program like this may have different economic and ecological trade-offs, says Hansen, Yeatman's adviser.
"I really wanted to do as much work on the ground as possible to thoroughly understand the economic and ecological trade-offs ranchers in the Upper Green River Basin would face if they were to consider voluntarily and temporarily being paid to use less water in direct response to the drought occurring across the Colorado River Basin," Yeatman says.
Yeatman spent time talking with the producers of this region to explore how they might participate in a project like this.
"There are not only economic costs and benefits of being paid to use less water, but there also are really interesting social and ecological trade-offs," Yeatman says. "I really wanted to be face to face with these ranchers and see these ranches and how they are irrigating to see the full story, because it is a complex issue."
The same year Yeatman was conducting her research, the Upper Colorado River Basin states signed into law the Colorado River Basin Drought Contingency Plan, which made it official that states had to find a way to deal with drought and constraints facing water resources.
"As she was learning about these issues, the policy landscape was changing as these policymakers were working to figure things out themselves," Hansen says.
Yeatman explored three study areas in the Upper Green River Basin: the Boulder, Fontenelle and Henry's Fork River regions. All three face just slightly different elevations, growing season day lengths, and different return flow and wetland concerns, Yeatman says.
"As a subregion of the Upper Colorado River Basin, we would expect these study areas within this subregion to respond similarly to a demand management program," Yeatman says. "The ranches are all cow-calf operations growing grass hay and/or alfalfa with surface water irrigation systems facing similar hydrological patterns, but we found that, just between these three study areas, there is huge variability in willingness to participate and in ecological impacts of using less water."
Yeatman developed a linear optimization model that considers both public -- wetlands and return flows -- and private -- ranch-level net margins -- factors. This method is commonly used by economists to estimate optimal price.
"The optimal price for demand management varied from $10 per acre foot to $170 per acre foot of consumptive water use savings between and within these areas," she says.
Yeatman was excited to see her work recognized by the WAEA.
"I was really impressed with how fully she embraced the task of learning about Colorado River Basin policies and issues, because it is really quite complicated," Hansen says. "Lawyers and policymakers in the region are still working to figure out how to envision a path forward for how to govern water within the constraints of the Colorado River Compact during a time of increased water scarcity."
Yeatman, of Little Rock, Ark., completed her undergraduate degree in environmental science and chemistry at Washington and Lee University in Lexington, Va. She graduated from UW with a master's degree in agricultural and applied economics last August. She is working remotely as a water resource specialist for American Farmland Trust in Teton County.
Contact Us
Institutional Communications
Bureau of Mines Building, Room 137
Laramie
Laramie, WY 82071
Phone: (307) 766-2929
Email: cbaldwin@uwyo.edu