Contact Us
Institutional Communications
Bureau of Mines Building, Room 137
Laramie
Laramie, WY 82071
Phone: (307) 766-2929
Email: cbaldwin@uwyo.edu
Caitlin McLennan Receives UW Outstanding Graduate Honor
May 25, 2021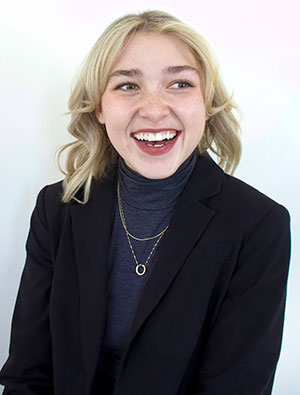 Caitlin McLennan
After transferring from a school in Boston to the University of Wyoming, Caitlin McLennan, of Monterey, Calif., worked several jobs in the Laramie community. Those positions enabled her to meet several people but, more importantly, guided her to build and engage community networks that began her work in helping others to better their communities.
Those efforts have earned McLennan the Rosemarie Martha Spitaleri Award as UW's outstanding graduating student. The award recognizes students for exhibiting the finest leadership, academic integrity and citizenship qualities.
McLennan recently graduated with a B.S. in environment and natural resources, and political science, with a sustainability minor. Her accomplishments in academics, service to the UW community and professional milestones highlight McLennan's commitment to environmental responsibility, food security and community. She adds that her experience is diverse, yet focused on citizenship, character and outreach for public good.
"My sustainability minor merged with my political science major to spark a passion for change, for building a future better than the present I arrived in," she says. "Through my commitment to academic excellence, I seized every opportunity to make change for the better on our campus."
Strengthening the UW campus community has been the forefront of her studies, and project-based courses such as "Campus Sustainability" and "Food, Health and Justice" gave her the chance to tackle food insecurity along with promoting other sustainability advocacy efforts. Her service to UW is merged in her academics and started with the Sustainability Coalition, a student organization built on shared leadership.
"The UW Food Security Task Force might be the greatest change-making accomplishment I had a part in, defining my time at UW to be one of collaboration among staff, faculty, students and administrators," she adds. "I only hope to continue the great work I've been given the opportunity to start at graduate school next academic year."
Melanie Matthews, a UW Haub School of Environment and Natural Resources senior project coordinator, had been McLennan's adviser for three years. She says McLennan plans to use the experiences she gained at UW to work with communities to build urban environment and urban food systems that are resilient, intentional and sustainable.
"Caitlin is extremely accomplished academically and outside of the classroom, and I believe that much of her success comes from strength of character. She is passionate, open-minded and definitely driven," Matthews says.
Another nominator, Christine Porter, the Wyoming Excellence Chair in the Division of Kinesiology and Health, says McLennan combined humility, empathy, tenacity and transformational strategy in her UW leadership and academic career.
"In all of her work, Caitlin bridges and respects difference, while never losing sight of reaching change goals at the cross-sections of equity and sustainability," Porter says. "She also has brought what seems to be infinite and tireless energy to every component of it."
Rachael Budowle, an assistant professor in the Haub School of Environment and Natural Resources, served as McLennan's instructor in all three of the core sustainability and project-based, community-engaged courses she teaches.
"While I always feel happy and proud with a tinge of bittersweetness when outstanding students move on to pursue the next steps in their professional and academic careers, I am hit particularly hard with Caitlin's graduation and departure from UW," Budowle says. "In terms of academic excellence, leadership, good character and contributions to the university, she is irreplaceable. She has already made my life as a teacher and mentor, our university, our community and this world immeasurably better."
Contact Us
Institutional Communications
Bureau of Mines Building, Room 137
Laramie
Laramie, WY 82071
Phone: (307) 766-2929
Email: cbaldwin@uwyo.edu