Contact Us
Institutional Communications
Bureau of Mines Building, Room 137
Laramie
Laramie, WY 82071
Phone: (307) 766-2929
Email: cbaldwin@uwyo.edu
Muknahallipatna Receives UW's George Duke Humphrey Distinguished Faculty Award
May 24, 2021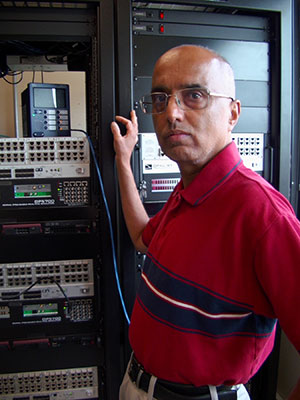 Suresh Muknahallipatna
Suresh Muknahallipatna has been a teacher, mentor, inventor and entrepreneur -- and is appreciated for each of his roles.
These attributes have earned Muknahallipatna, a professor in the University of Wyoming Department of Electrical and Computer Engineering, the George Duke Humphrey Distinguished Faculty Award.
Named for UW's 13th president, who served from 1945-1964, the George Duke Humphrey Distinguished Faculty Award recognizes teaching effectiveness, distinction in scholarly work and distinguished service to the university and state.
"Suresh has worked extremely hard to make sure our students are being taught the most relevant and current information using the latest educational methods," says John McInroy, a professor and head of the UW Department of Electrical and Computer Engineering, who nominated Muknahallipatna for the award.
Muknahallipatna created a new course, titled "Physical Computing," that has allowed sophomores the chance to design and implement complicated devices. The course has advanced the entire curriculum to the point students are now completing more advanced senior designs, and it is now a required course for mechanical engineering students, McInroy says.
Richard Loft, director of technology development in the Computational and Information Systems Laboratory at the National Center for Atmospheric Research, has worked with a dozen of Muknahallipatna's students over the past six years and even hired three of them.
"Dr. Suresh's students are consistently well prepared, very professional and highly motivated," Loft says. "In fact, I would say his students are actually better prepared than nearly all of the graduate-level students in computer science and computer engineering from other institutions with whom I've worked."
Ruby Perry, a sixth grade math teacher at CY Middle School in Casper, participated in Robotics, Applied Mathematics, Physics and Engineering Design (RAMPED), a cross-disciplinary professional development program, on the UW campus in 2016. Perry says she was terrified to participate in the program, but credits Muknahallipatna with giving her the confidence to succeed and return for future RAMPED programs.
"I feel confident in my abilities, and this confidence is recognized by my school district," Perry says. "I have been able to get other female teachers to participate in the summer programs, as well as getting the school district to support activities for our students in these types of areas."
The UW professor also has been recognized for his entrepreneurial skills. Muknahallipatna and his high-performance computing group created IBM GRAF (Global High-Resolution Atmospheric Forecasting System), which was rolled out across the world and predicts the weather up to 12 times faster and at a higher resolution. In honor of his work on this, Muknahallipatna was given the NVIDIA Deep Learning Institute University Ambassador Award.
During the fall semester, Muknahallipatna developed a new apparatus for designating two-lane highway passing and no-passing zones, a system already in use by the Wyoming Department of Transportation. In February, he was asked to oversee the construction of a new supercomputer in Cheyenne, which is based on the newest Argonne National Laboratory design.
He also has collaborated with McGinley Orthopedics, a Casper-based medical device company, to create an augmented reality system that makes ultrasound-guided surgical injection procedures easier.
Based on his pro bono improvements to Microsoft products, Muknahallipatna has received the Microsoft Most Valuable Professional Award for three consecutive years.
Muknahallipatna received his Ph.D. in electrical engineering from UW; and his master's degree and bachelor's degree in engineering, both from the University of Bangalore in India.
Contact Us
Institutional Communications
Bureau of Mines Building, Room 137
Laramie
Laramie, WY 82071
Phone: (307) 766-2929
Email: cbaldwin@uwyo.edu