Contact Us
Institutional Communications
Bureau of Mines Building, Room 137
Laramie
Laramie, WY 82071
Phone: (307) 766-2929
Email: cbaldwin@uwyo.edu
UW Sales Students Raise More Than $20K for Local Nonprofits
May 11, 2021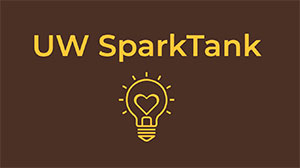 The University of Wyoming Center for Professional Selling and the UW Ethics Club recently collaborated to provide a unique selling experience for College of Business students majoring in professional selling by raising money for four local nonprofit organizations.
For the past three years, the UW Ethics Club has hosted SparkTank, a program that selects four nonprofits to receive mission-critical funding. This year, with the help of the sales students, the Ethics Club raised a total of $57,500 for Climb Wyoming, Laramie Foster Closet, Laramie Soup Kitchen and the Wyoming Coalition Against Domestic Violence and Sexual Assault.
"This year, we had the opportunity to partner with students pursuing our new professional selling major who, as part of their experiential learning capstone project, raised a large portion of the funds the Ethics Club gave to the organizations," says Kent Noble, UW's Bill Daniels Chair of Business Ethics.
Professional selling majors complete their degree through the "Sales Seminar" class taught by Molly Burchett, an assistant professor of marketing and sales. The key objectives of this course are to provide real-life selling experiences in which students can learn to manage a pipeline of prospective customers while effectively using sales enablement technologies.
SparkTank fundraising enabled students to practice, refine and master important selling skills.
"The professionalism and effectiveness of our students involved in this project make me proud," Burchett says. "I look forward to continuing this impactful collaboration and building upon its success with the 'Sales Seminar' class next spring."
The 27 sales students in the course logged more than 244 emails, called on 294 individuals and businesses, and held 82 meetings to raise nearly $21,000 from 80 different individuals and businesses.
"Through this project, students were able to gain hands-on sales experience that improved their ability to manage the sales pipeline; integrate ethical principles in their sales approach; tell powerful stories about local nonprofits; and 'spark' a greater sense of purpose among local businesses, community members and supporters of the Center for Professional Selling and the College of Business," says Chris Haller, the Timothy M. Miles Director for the Center for Professional Selling at UW.
The partnership between the Center for Professional Selling and the UW Ethics Club has significantly grown the awareness of SparkTank and provided a learning opportunity for UW students, says Professor Mark Leach, UW's Mendicino Family Chair in Sales and Salesmanship.
For more information about the center or the collaboration, call Haller at (307) 766-4157 or email chris.haller@uwyo.edu.
About the Center for Professional Selling
The center was created to promote professional selling and sales management at UW by delivering innovative sales instruction, providing industry engagement opportunities and conducting research that advances the field of sales. The center serves students by enhancing their marketable skills in sales and sales leadership, strengthening corporate partnerships and raising the stature of UW's College of Business.
Contact Us
Institutional Communications
Bureau of Mines Building, Room 137
Laramie
Laramie, WY 82071
Phone: (307) 766-2929
Email: cbaldwin@uwyo.edu