Contact Us
Institutional Communications
Bureau of Mines Building, Room 137
Laramie
Laramie, WY 82071
Phone: (307) 766-2929
Email: cbaldwin@uwyo.edu
UW's Molina Recipient of Hollon Family Off-Campus Teaching Award
May 24, 2021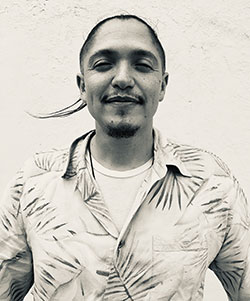 Adrian Molina
Adrian Molina is among "the University of Wyoming's own" who excelled as a student, receiving the Tobin Memorial Award for Outstanding Male Graduate his senior year. He later received a juris doctor degree from the UW College of Law. And now, he has earned a reputation as an excellent and valued UW instructor.
Molina is the recipient of the Hollon Family Award for Teaching Excellence in Off-Campus Programs. In 1986, C.E. "Jerry" Hollon, a former UW trustee, established the award to recognize "contributions to the general extension outreach programs of the university."
As an adjunct faculty member since 2006, Molina has taught more than 90 courses for various UW departments, primarily through the Honors College, and the former Outreach School and Chicano Studies Program. Since 2010, he has taught in the Honors College, where his courses include "Modes: Mass Media and Collective Consciousness" and "Art and Culture of Hip-Hop." All of these distance courses are impactful, relevant topics that UW students flocked to and profited from, says Peter Parolin, dean of the Honors College.
Joslyn Cassady, an instructional professor and honors capstone co-coordinator for the Honors College, says Molina's overall professional background makes him a "hidden treasure in our community. But, he is far from 'hidden' outside our university."
Molina is a Denver-based creative force, poet and musician who has 22 albums to his credit; founded Youth on Record and other meaningful youth programs; and has dedicated countless hours to community-based initiatives.
"After reviewing Mr. Molina's syllabi and teaching evaluations, I have come to believe that his success in getting students to 'show up' is his investment in not what they do or who they become but, rather, that they become," Cassady says. "Through his assignments that require reflection and self-assessment, journaling and creating conversation with each other, he is inviting students to be active agents in their educational experience and in their lives."
Parolin says that many past Hollon award winners are full-time tenured faculty members but, in his nomination letter, Parolin wrote he hoped that the awards committee would recognize the "vast and critical contribution to our off-campus operations" of a part-time instructor.
"In contemporary academia, it is so often colleagues in adjunct roles who enable the university to fulfill its mission," Parolin says. "In Adrian Molina's case, he has inspired students with his excellent teaching, connected brilliantly with students via distance, and shown that the distance education UW promotes is not only consistent with excellence, but actively advances our frontiers of teaching and learning."
Expanding on teaching and learning is what inspired one of Molina's students.
"Mr. Molina has inspired me to think about the world around me and critique it for what it really is and how it plays in our culture," the student says. "He has shed light on the fact that everything that is and will be is a product of our social nature as humans and will continue to be the driving force for how our society is shaped."
Another student praises Molina's online teaching style.
"The class was amazing and a lot of fun," the student writes. "He created assignments with the purpose of us learning something about ourselves and the world around us, not just learn something and then move on like most professors."
Molina earned bachelor's degrees in sociology and criminal justice, with a Chicano studies minor (2003), and his law degree (2006), all from UW.
Contact Us
Institutional Communications
Bureau of Mines Building, Room 137
Laramie
Laramie, WY 82071
Phone: (307) 766-2929
Email: cbaldwin@uwyo.edu