Contact Us
Institutional Communications
Bureau of Mines Building, Room 137
Laramie
Laramie, WY 82071
Phone: (307) 766-2929
Email: cbaldwin@uwyo.edu
UWyo Magazine Spring Issue Highlights Student Voices
May 24, 2021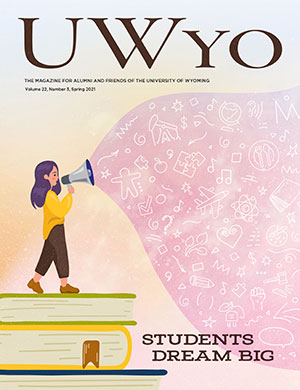 More than 30 University of Wyoming students share how UW is preparing them to achieve their hopes and dreams in the spring digital issue of UWyo Magazine.
"I want to be a health care provider who comes back to Wyoming and establishes good health care here in the state," says future physician and recent graduate Brayden Gaston, of Jackson.
"The best way to make the world a better place is by setting forth an example of the changes you want to see," says junior Nicole Reyes-Aguilar, of Cheyenne. "Stand up for what you believe in, and stand up for those who cannot."
Their dreams are varied, but these students plan to put their education to good use improving the state, country and world. In addition to this feature, the spring issue highlights how students want to see higher education grow and change with the times, combining online with in person, embracing active learning and more. It also highlights UW's new student support programs and Black Studies Center as well as students who stepped up to help during the pandemic -- from testing to providing a Thanksgiving feast.
"All UW supporters will enjoy this student-focused issue of our flagship magazine," says Chad Baldwin, associate vice president for marketing and communications. "As we emerge from what has been an extremely challenging year, the stories and perspectives contained in this digital edition are particularly inspiring and uplifting."
Read the digital flipbook here, or read the magazine online at www.uwyo.edu/uwyo.
Contact Us
Institutional Communications
Bureau of Mines Building, Room 137
Laramie
Laramie, WY 82071
Phone: (307) 766-2929
Email: cbaldwin@uwyo.edu