Contact Us
Institutional Communications
Bureau of Mines Building, Room 137
Laramie
Laramie, WY 82071
Phone: (307) 766-2929
Email: cbaldwin@uwyo.edu
US Supreme Court Justice to Visit UW College of Law Sept. 16
August 2, 2021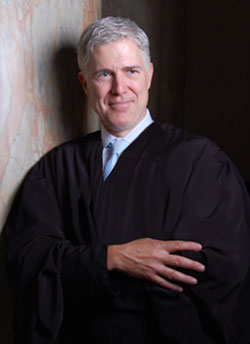 U.S. Supreme Court Associate Justice Neil Gorsuch
United States Supreme Court Associate Justice Neil Gorsuch will visit the University of Wyoming College of Law and campus with a free public talk at 1:30 p.m. Thursday, Sept. 16.
Gorsuch will discuss "Constitution Day Reflections: Equal Justice for All" in a fireside chat format with Wyoming Supreme Court Justice Lynne Boomgaarden. His talk will take place in the Buchanan Center for the Performing Arts concert hall.
There is no charge for the event, but tickets are required and may be reserved at the Performing Arts box office or by calling (307) 766-6666.
UW faculty, staff and students may reserve or pick up tickets starting Monday, Aug. 16. A "W" number is required. Remaining tickets will be available to the public for reservation or pickup beginning Monday, Aug. 30. All attendees must be 16 or older and show a photo ID to enter.
Gorsuch was to speak on the UW campus last September, but his appearance was canceled because of COVID-19 concerns.
For more information, call Chavawn Kelley, UW College of Law program coordinator, at (307) 766-6562 or email ckelley@uwyo.edu.
About Neil Gorsuch
Neil Gorsuch was born in Denver, Colo., Aug. 29, 1967. He and his wife, Louise, have two daughters. He received a B.A. degree from Columbia University, his J.D. from Harvard Law School and a D.Phil. from Oxford University.
He served as a law clerk to Judge David Sentelle, of the U.S. Court of Appeals for the District of Columbia Circuit, and as a law clerk to Justice Byron White and Justice Anthony Kennedy, of the Supreme Court of the United States.
From 1995-2005, he was in private practice and, from 2005-06, he was principal deputy associate attorney general at the U.S. Department of Justice. He was appointed to the U.S. Court of Appeals for the 10th Circuit in 2006.
Gorsuch served on the Standing Committee on Rules for Practice and Procedure of the U.S. Judicial Conference, and as chairman of the Advisory Committee on Rules of Appellate Procedure. He taught at the University of Colorado Law School. President Donald Trump nominated him as an associate justice of the U.S. Supreme Court, and he took his seat April 10, 2017.
Contact Us
Institutional Communications
Bureau of Mines Building, Room 137
Laramie
Laramie, WY 82071
Phone: (307) 766-2929
Email: cbaldwin@uwyo.edu