Contact Us
Institutional Communications
Bureau of Mines Building, Room 137
Laramie
Laramie, WY 82071
Phone: (307) 766-2929
Email: cbaldwin@uwyo.edu
UW Professor to Lead Chapter for National Climate Assessment
August 27, 2021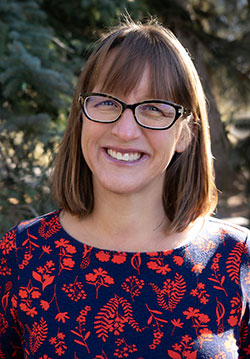 Corrine Knapp
University of Wyoming Assistant Professor Corrine Knapp will lead the Northern Great Plains regional chapter of the fifth National Climate Assessment, a federally mandated analysis of climate change impacts for the United States.
The assessment entails a rigorous process of public engagement and scientific review. The goal is to analyze the effects of human-induced and natural global change on the environment, agriculture, energy production, land and water, transportation, human health and welfare, social systems and biological diversity for current times as well as projecting major trends out 25 to 100 years.
The National Climate Assessment report, which is released every four years, is authoritative, timely, relevant and policy neutral, and is written to be widely accessible and useful for decision-making at all levels. The next publication is expected in fall 2023.
"It is a huge honor to be part of it and to contribute to this effort," Knapp says. "I have been really impressed with the past National Climate Assessments. I have used them in prior classes, and I find they provide accessible and relevant information."
Knapp studies environment and society in the UW Haub School of Environment and Natural Resources. Her research interests are at the confluence of climate change, conservation and livelihoods. Using a social-ecological approach, she works in climate change adaptation, local and Indigenous knowledge, sense of place and conservation innovation. Knapp has a commitment and passion for Western landscapes, rangelands, and the human and ecological communities that depend on them.
As the Northern Great Plains regional chapter lead for the National Climate Assessment, she will organize and direct a team of authors, including federal, state, local, nonprofit and business partners.
"I am in the process of recruiting a very interdisciplinary team of experts from the Northern Great Plains," Knapp says. "I am looking forward to synthesizing the most relevant scientific information into a form that is useful to a wide range of stakeholders and decision-makers. I believe in the intention of connecting the best available science to what people care about to help them make better decisions."
The National Climate Assessment is part of the U.S. Global Change Research Program, established by a presidential initiative in 1989 and mandated by Congress in the Global Change Research Act of 1990. Its mandate is to develop and coordinate a "comprehensive and integrated United States research program, which will assist the nation and the world to understand, assess, predict, and respond to human-induced and natural processes of global change."
For more information, email Knapp at corrie.knapp@uwyo.edu.
Contact Us
Institutional Communications
Bureau of Mines Building, Room 137
Laramie
Laramie, WY 82071
Phone: (307) 766-2929
Email: cbaldwin@uwyo.edu