Contact Us
Institutional Communications
Bureau of Mines Building, Room 137
Laramie
Laramie, WY 82071
Phone: (307) 766-2929
Email: cbaldwin@uwyo.edu
UW School of Nursing Selects Niemoller as 2021 Distinguished Alumna
September 14, 2021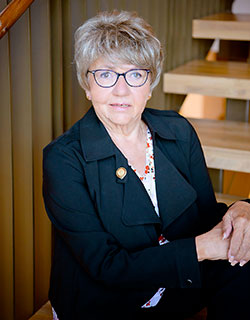 Jeanine Niemoller
The University of Wyoming's Fay W. Whitney School of Nursing has selected Jeanine Niemoller as its 2021 Distinguished Alumna.
Niemoller was selected for this year's award for her significant contributions to the nursing profession and for excellence in leadership.
Niemoller earned her Bachelor of Science in Nursing from the UW School of Nursing in 1981 and then graduated with her Master of Science degree in 1995.
She has used her expertise within the local community, serving on the board of directors for Hospice of Laramie, as a facilitator for the Albany County Prostate Cancer Support Group, and on the Eppson Center for Seniors Task Force.
"Jeanie Niemoller's passion for and commitment to seniors and to gerontological nursing are rightfully legend in Wyoming," says one of her nominators. "She was nationally certified in gerontological nursing and spent the bulk of her career at Ivinson Memorial Hospital in the Extended Care Unit as the director of nursing and an administrator."
Niemoller also has been a leader in the Wyoming Nurses Association, holding positions including president, when she represented Wyoming at the state and national levels.
She has been a longtime member of the American Nurses Association; has been president of Sigma Theta Tau Alpha Pi chapter; and has served in the Wyoming Quality Healthcare Foundation, as well as Soroptimist International of Laramie. Niemoller also served as vice president of the UW Alumni Association nursing chapter.
"Leaders are willing to make decisions but also are willing to take risks to bring a group to a better place," says another nominator. "Jeanie has demonstrated this repeatedly during her rich nursing career in long-term care, alumni relations at Wyoming and with the Wyoming Center for Nursing."
During Niemoller's time of service to the Wyoming Center for Nursing (WCN) Advisory Board, the WCN needed complete reorganization into its own 501(c)(3) entity. She then gathered a group of experts to begin writing new grants to continue the WCN mission while serving as the organization's vice chair. 
During the COVID-19 pandemic, Niemoller coordinated the education and technical support to implement a joint project with the Wyoming Institute for Disabilities and the Fay W. Whitney School of Nursing. The project sought funding from the Robert Wood Johnson Foundation and AARP for innovative work to address health equity and well-being, and to promote a culture of health with the elderly.
Only 10 nursing innovative grants were awarded by Robert Wood Johnson and AARP for 2020, and WCN received one of them. Matching funds had to be raised, and Niemoller solicited contributions from local organizations.
Niemoller will be honored in person during UW's 2021 Homecoming week at the Friends of the Fay W. Whitney School of Nursing development board meeting and at the College of Health Sciences Distinguished Alumni Award reception.
To learn more about Niemoller, visit www.uwyo.edu/nursing/alumni/alumni-distinguished/2021-niemoller.html.
Contact Us
Institutional Communications
Bureau of Mines Building, Room 137
Laramie
Laramie, WY 82071
Phone: (307) 766-2929
Email: cbaldwin@uwyo.edu