Contact Us
Institutional Communications
Bureau of Mines Building, Room 137
Laramie
Laramie, WY 82071
Phone: (307) 766-2929
Email: cbaldwin@uwyo.edu
UW School of Nursing Welcomes New McMurry Chair of Mental Health
September 13, 2021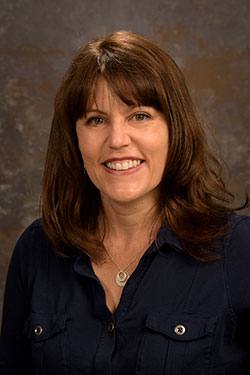 Sherra St Clair
Sherra St Clair has accepted a position as the new McMurry Chair of Mental Health at the University of Wyoming's Fay W. Whitney School of Nursing.
St Clair will oversee the integration of mental health into care delivery across programs in the nursing school. In this new position, St Clair will focus on education and practice to increase the quality and quantity of psychiatric mental health practices in care delivery.
To accomplish this mission, she will work with other faculty members across programs throughout the school. She also will collaborate with key stakeholders around Wyoming to identify and assist in implementing best practices.
St Clair will work toward expanding UW's Integrative Care Network through the Project ECHO program. ECHO is a revolutionary model that provides free online medical education clinics led by experts benefiting individuals, families, educators, case managers, administrators and health care providers. Her primary role as a full-time faculty member will be statewide service and community engagement.
"Dr. St Clair is passionate about addressing stigma, bias, and improving access and resources for mental health in Wyoming," says Sherrill Smith, dean of the nursing school. "She is eager to engage in communications with the many professionals whose influence is integral to her focus."
St Clair entered the nursing field after 20 years as a master's-prepared medical illustrator, where she created highly detailed, accurate illustrations and animations to teach health care providers and patients about medical procedures, anatomy, physiology, pathology, trauma and surgery. She currently practices patient care at HealthWorks, a federally qualified health center in Cheyenne, and teaches courses for UW's Doctor of Nursing Practice and Basic Bachelor of Science in Nursing programs.
St Clair is a board-certified psychiatric mental health doctor of nursing practice and clinical assistant professor at the Fay W. Whitney School of Nursing. She has four years of inpatient psychiatric nursing experience and two years of outpatient experience as a doctor of nursing practice working with patients with mental illness, suicide ideation attempts, substance use and withdrawal. 
Health care providers and educators with questions can reach St Clair via email at sseifert@uwyo.edu or by phone at (307) 766-5402.
Contact Us
Institutional Communications
Bureau of Mines Building, Room 137
Laramie
Laramie, WY 82071
Phone: (307) 766-2929
Email: cbaldwin@uwyo.edu