Contact Us
Institutional Communications
Bureau of Mines Building, Room 137
Laramie
Laramie, WY 82071
Phone: (307) 766-2929
Email: cbaldwin@uwyo.edu
UW's Mruk Receives NIH R21 Grant to Study Spinal Cord Regeneration
September 1, 2021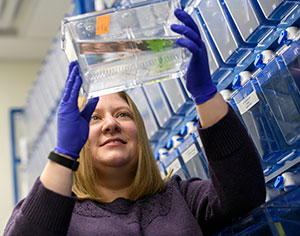 Karen Mruk
Karen Mruk is focused on spinal cord regeneration and is studying how a zebrafish regenerates to learn more about how that information can apply to humans.
To help her conduct this research, the University of Wyoming assistant professor of pharmaceutical science recently received a two-year, $362,494 grant from the National Institutes of Health (NIH).
The NIH Exploratory/Development Research Grant (R21) was awarded for Mruk's project, titled "RNA-Based Tools for Developmental and Regenerative Biology." The grant begins today (Sept. 1) and runs through Aug. 31, 2023. The R21 grant mechanism encourages exploratory/development research by providing support for the early and conceptual stages of project development.
"Regeneration is one of the 'holy grails' of biology. Our lab specifically works on spinal cord regeneration," Mruk says. "One limitation in studying regeneration is that the genetic tools that scientists use to study regeneration are often global, meaning there's a lack of control in space and time; slow, so that they miss early events that happen during regeneration; or unable to last throughout development until adulthood.
"These new tools we are developing are conditional, fast and have increased spatial and temporal control so we can better investigate regeneration," she adds. "Our ultimate goal is to understand how an animal like the zebrafish naturally regenerates and then use that information to apply it to humans."
The grant is a collaboration with Maureen McKeague, an assistant professor of chemistry at McGill University, located in Montreal, Quebec, Canada. Mruk and McKeague will develop tools -- called riboswitches -- that will allow them to control translation of mRNA into protein in a vertebrate animal.
"We are developing two different sets of tools. One will allow us to control translation with small molecules. The other will allow us to control translation with blue light," Mruk explains. "Both tools give us control in space and time so that we can specifically target different tissues and organs in the animal."
The grant provides funding for two UW students -- Whitney Walker, of Bethel, Alaska, who is majoring in biomedical sciences for her Ph.D.; and Shannon Linch, a senior from Riverton majoring in chemical engineering.
Mruk's past research investigated how potassium channels in the nervous system play a role in various afflictions, including epilepsy. Currently, her lab focuses on nervous system injury and regeneration using zebrafish as a model.
Mruk received her Ph.D. from the University of Massachusetts Medical School and her bachelor's degree from Drew University. She was a Craig H. Neilsen postdoctoral fellow with Professor James Chen at Stanford University.
Contact Us
Institutional Communications
Bureau of Mines Building, Room 137
Laramie
Laramie, WY 82071
Phone: (307) 766-2929
Email: cbaldwin@uwyo.edu