Contact Us
Institutional Communications
Bureau of Mines Building, Room 137
Laramie
Laramie, WY 82071
Phone: (307) 766-2929
Email: cbaldwin@uwyo.edu
Safe Treat Oct. 28 at UW
October 19, 2021
The popular community-wide Safe Treat for children returns to the University of Wyoming from 4-7 p.m. Thursday, Oct. 28.
Trick-or-treating, face painting, a kid-friendly haunted house, storytelling, cookie decorating, mazes and games are on tap in the lower level of Washakie Dining Center and on UW's Fraternity and Sorority Mall. Safe Treat parking will be available in the Wyoming Union parking lot; the Cooper House parking lot, located at 14th Street and Ivinson Avenue; and lots to the north and east of the Buchanan Center for the Performing Arts.
Additionally, participants can purchase dinner at the Washakie Dining Center. Cost is $14 for adults and $10 for children 12 and under. On the menu will be Halloween-themed dishes including fun desserts, cotton candy and caramel apples.
UW Residence Life and Dining Services, Fraternity and Sorority Life, and various UW student organizations sponsor Safe Treat.
"Safe Treat is a fun time to support and give back to the local community, enjoy the fun costumes and not worry about the stresses of being a student for a few hours by dressing up ourselves," says Cheyna Bradshaw, the Panhellenic Council president from Big Horn.
For more information about parking and participating buildings, visit the UW Fraternity and Sorority Life Facebook page here.
---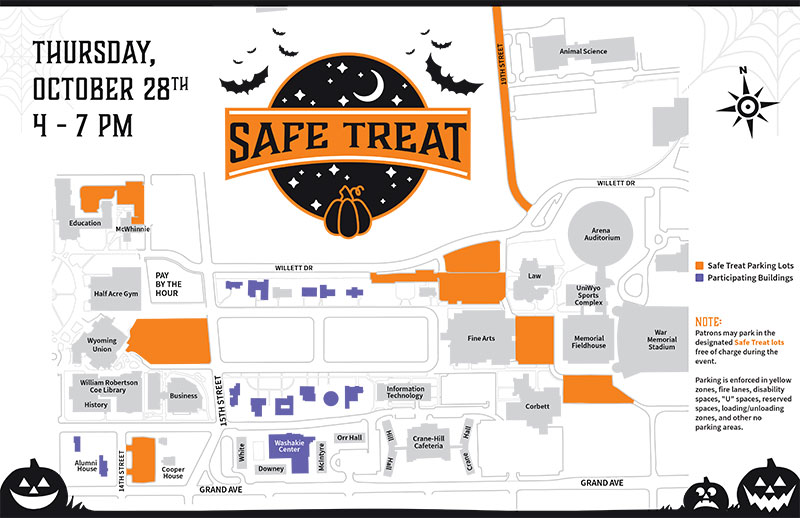 Contact Us
Institutional Communications
Bureau of Mines Building, Room 137
Laramie
Laramie, WY 82071
Phone: (307) 766-2929
Email: cbaldwin@uwyo.edu