Contact Us
Institutional Communications
Bureau of Mines Building, Room 137
Laramie
Laramie, WY 82071
Phone: (307) 766-2929
Email: cbaldwin@uwyo.edu
Edgewater Duo to Perform Nov. 6 at UW
November 2, 2021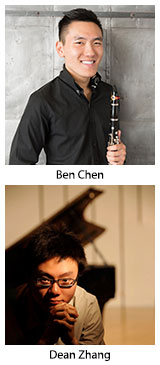 The Edgewater Duo will perform as part of the University of Wyoming Department of Music's Faculty Recital Series at 7:30 p.m. Saturday, Nov. 6.
The concert -- in the Buchanan Center for the Performing Arts recital hall -- is free and open to the public. The performance also will livestream at https://youtu.be/2IbO67Cmk5c.
Based in Ohio, the Edgewater Duo is composed of Ben Chen, clarinet, and UW Department of Music alumnus Dean Zhang, piano. The duo performs recitals nationwide and, for its UW program, will feature works for clarinet and piano by Max Bruch, Francis Poulenc, Alexander Rosenblatt, Clara Schumann and Germaine Tailleferre.
Chen has performed on three continents and across the U.S., from Maine to Alaska. He currently holds positions with the Erie Philharmonic and Cleveland Pops Orchestra, and he was previously principal clarinetist of the Youngstown Symphony.
Zhang has been a featured soloist with the Canton Symphony, National Repertory Orchestra, New World Symphony, Southwest Florida Symphony and Tucson Symphony, and he is the laureate of numerous competitions.
To learn more about each of the Edgewater Duo musicians, go to the UW Department of Music's "Upcoming Performances" webpage and locate the "Edgewater Duo" concert listing.
For more information, call Kathy Kirkaldie, UW Fine Arts coordinator, at (307) 766-2160 or email kirisk@uwyo.edu.
Contact Us
Institutional Communications
Bureau of Mines Building, Room 137
Laramie
Laramie, WY 82071
Phone: (307) 766-2929
Email: cbaldwin@uwyo.edu