Contact Us
Institutional Communications
Bureau of Mines Building, Room 137
Laramie
Laramie, WY 82071
Phone: (307) 766-2929
Email: cbaldwin@uwyo.edu
UW Announces Winners of Collegiate WYTeach Contest
November 1, 2021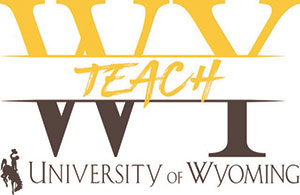 Emily Balfour, a sophomore secondary education career and technical education major at the University of Wyoming at Casper, was named the first-place winner of the inaugural WYTeach Collegiate Competition.
Balfour, from Casper, took home a $500 scholarship after teaching her lesson, "Drawing Views," to a virtual class of avatars via a live video feed. The contest used innovative virtual reality software from Mursion that allowed participants to experience what it is like to be a teacher.
Madison McCreath, a UW sophomore secondary education agriculture education major from Lyman, placed second in the competition and earned a $300 scholarship for her lesson, "Everyday Hero." Third place and a $200 scholarship were secured by Emma Daly, a UW freshman secondary education agriculture education student from Kremmling, Colo., who presented her lesson, "Let's Eat Some Dirt." Daly had previously won the inaugural WYTeach High School Competition last spring.
Lindsey Freeman, a UW assistant lecturer, and Colby Gull, managing director of the UW Trustees Education Initiative (TEI), developed the WYTeach contest to combat a teacher shortage that is being felt in the state and across the country.
Although there are other teaching competitions, the contest at UW stands out for providing a more realistic teaching experience. Most teaching contests see participants present lesson plans as opposed to teaching their lessons to a classroom of unpredictable students. Using virtual reality to provide an authentic classroom environment is what helped set WYTeach above the others.
The contest was made possible through a collaboration with Mursion, which donated the cost of running the virtual reality simulations for the competition and supplied funds to purchase prizes for participants. The Ellbogen Foundation, the UW Foundation and the UW College of Education all contributed the scholarship money that was awarded to the top three contestants. TEI supported Freeman's idea for the contest and helped make connections so that the innovation would become a reality.
Contact Us
Institutional Communications
Bureau of Mines Building, Room 137
Laramie
Laramie, WY 82071
Phone: (307) 766-2929
Email: cbaldwin@uwyo.edu