Contact Us
Institutional Communications
Bureau of Mines Building, Room 137
Laramie
Laramie, WY 82071
Phone: (307) 766-2929
Email: cbaldwin@uwyo.edu
UW Jazz Concert to Feature Special Guest Ernie Watts Nov. 4
November 1, 2021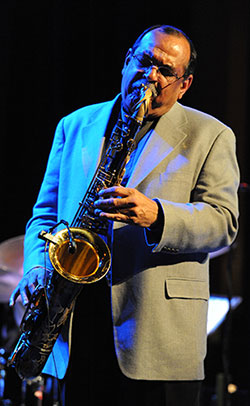 Ernie Watts
The Wyoming Jazz Ensemble will perform with special guest Ernie Watts Thursday, Nov. 4, at the University of Wyoming.
The UW Department of Music Spotlight Series and Jazz Studies program will present the concert at 7:30 p.m. in the Buchanan Center for the Performing Arts concert hall. 
Tickets are $12 for the public; $8 for senior citizens; $6 for students not attending UW; and free to UW students with a "W" number. To purchase tickets, visit the Performing Arts box office, call (307) 766-6666 or go online at www.uwyo.edu/finearts. The concert also will livestream at https://youtu.be/oF3QFTTprr4. 
Two-time Grammy Award-winning saxophonist Watts is known as one of the most versatile and prolific saxophone players. Watts' 50-plus years of musical artistry have produced over 500 recordings, and he has played on numerous gold records.    
In 2014, Watts received the Frankfurt Music Prize, an honor given by the city of Frankfurt, Germany, to classical and nonclassical musicians. He is one of six jazz musicians who have received the prize. Previous jazz honorees include Chick Corea, Paquito D'Rivera and John McLaughlin.
In addition to Watts, the concert will feature "Softly, as in a Morning Sunrise" by Hammerstein and Romburg, arranged by Alan Baylock; "Tones for Joan's Bones" by Corea, arranged by Jeff Holmes; "Naima" by John Coltrane, arranged by Manny Mendelson; "Wabash" by Cannonball Adderley, arranged by Mike Barone; "Lover Man" by Jimmy Davis, Roger Ramirez and Jimmy Sherman, arranged by Bill Holmes; and "American Gothic" by Bob Berg, arranged by Mike Crotty.
Directed by Andy Wheelock, the Wyoming Jazz Ensemble is UW's premier big band. The ensemble has regularly earned the highest ratings at national jazz festivals, and it has accompanied some of the biggest names in jazz music in both on- and off-campus performances.
For more information, call Kathy Kirkaldie, UW Fine Arts coordinator, at (307) 766-2160 or email kirisk@uwyo.edu.
Contact Us
Institutional Communications
Bureau of Mines Building, Room 137
Laramie
Laramie, WY 82071
Phone: (307) 766-2929
Email: cbaldwin@uwyo.edu