Contact Us
Institutional Communications
Bureau of Mines Building, Room 137
Laramie
Laramie, WY 82071
Phone: (307) 766-2929
Email: cbaldwin@uwyo.edu
Dabrowski Wins UW's 2022 Stewart Family Serviceship Award
May 2, 2022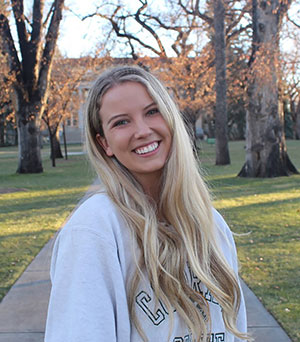 Basia Dabrowski
Basia Dabrowski, a first-year doctoral student in the clinical psychology Ph.D. program in the College of Arts and Sciences, is the 2022 recipient of the University of Wyoming's Stewart Family Serviceship Award.
She will receive $5,000 to complete her service project on "Intervention to Address Social Isolation Among Older Wyoming Residents at Risk for Nursing Placement."
Her project seeks to address social isolation and loneliness, which are prominent public health issues commonly presented in late adulthood. Social isolation and loneliness are associated with increased health risks, including premature mortality, dementia, depression, heightened stress and suicide. These issues are even more common among older adults with chronic medical conditions.
Wyoming state budget cuts eliminated Medicaid funding for Wyoming's only Program of All-Inclusive Care for the Elderly (PACE), a care model providing adult day services that include medical, behavioral and social services.
The purpose of this service project is twofold: first, to evaluate the impact of the PACE closure on social isolation, loneliness and health, and identify needs and preferences for interventions to address social isolation among clients who have experienced the closure of the PACE program; second, to develop and pilot an intervention that addresses social isolation and loneliness.
"The findings of this project will help us identify needs and concerns relating to social isolation in older adults and provide direction in developing an effective intervention that promotes social engagement throughout Wyoming," Dabrowski says.
Professor Jean Garrison, chair of the Stewart Award Committee, says Dabrowski's project is precisely the kind of project the Stewart Award was created to support -- "namely, a project that addresses an important community need and real-world challenge."
At UW, Dabrowski works in the Health and Aging Lab, overseen by Professor Christine McKibbin, which focuses on improving health outcomes for older adults and families, as well as intervention development and testing. Dabrowski's career goal is to be a clinician at a nonprofit aging clinic, developing and leading community programs to address critical needs among older adults.
She received her Bachelor of Science in psychology from Colorado State University and hails from Colorado Springs, Colo.
Contact Us
Institutional Communications
Bureau of Mines Building, Room 137
Laramie
Laramie, WY 82071
Phone: (307) 766-2929
Email: cbaldwin@uwyo.edu