Contact Us
Institutional Communications
Bureau of Mines Building, Room 137
Laramie
Laramie, WY 82071
Phone: (307) 766-2929
Email: cbaldwin@uwyo.edu
Stephen Boss Named Agnes Milstead Distinguished Librarian at UW
May 16, 2022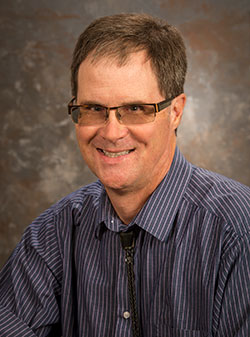 Stephen Boss
Stephen Boss, an associate librarian at University of Wyoming Libraries, is the recipient of UW's 2022 Agnes Milstead Distinguished Librarianship Award.
The late Agnes Milstead, a former professor of education and library science at UW, established the annual award in 1993 to recognize significant contributions to UW Libraries in scholarship, program development, teaching, fundraising and professional achievements.
The award recognizes Boss for his professionalism, enthusiasm and dedication to UW Libraries and libraries around the state. He focuses on using librarianship, technology and his business background to help support librarians and entrepreneurs in their communities to expand the economy in Wyoming.
A librarian at UW since 2002, Boss has made many valuable contributions. He played a pivotal role in establishing Studio Coe and One Button Studio in Coe Library. Currently, he co-leads the Wyoming Library to Business program and serves on the UW Libraries Diversity Council.
Boss spent his recent sabbatical researching how libraries can support rural communities through outreach programs. He built three space-specific video production studios in Casper, Cheyenne and Gillette. He also launched several small-scale business stations in Buffalo, Cody, Evanston, Rawlins, Rock Springs and Worland.
Rachael Svoboda, business services coordinator for the Wyoming Library to Business program, wrote in her nomination letter that Boss "has been utilizing his experience and education to make a tangible impact in supporting the entrepreneurial ecosystem while highlighting the power of community libraries."
Boss' passion for business entrepreneurship, building connections and facilitating action has allowed him to collaborate on projects, both internally and externally.
Betsy O'Neil, adult services manager for the Natrona County Library, wrote in her nomination letter about her collaboration with Boss.
"The technology Stephen has installed in public libraries across Wyoming is providing services that foster the entrepreneurial ecosystem and help future business owners gain access to the information, organization and funding that will assist them in making their plans viable," O'Neil wrote.
"He supports true innovation and solves problems calmly and expertly every day," a fellow colleague wrote in her nomination letter.
Another colleague stated in his nomination letter that Boss is "… a strong mentor for his student employees, open to diverse viewpoints and has genuine interest in those he works with daily."
Boss earned his master's degrees in librarianship and information management (1985) and history/archives (1986) at the University of Denver. He received his bachelor's degrees (1983 and 1984) from Simpson College in Indianola, Iowa.
Contact Us
Institutional Communications
Bureau of Mines Building, Room 137
Laramie
Laramie, WY 82071
Phone: (307) 766-2929
Email: cbaldwin@uwyo.edu