Contact Us
Institutional Communications
Bureau of Mines Building, Room 137
Laramie
Laramie, WY 82071
Phone: (307) 766-2929
Email: cbaldwin@uwyo.edu
June Public Events Celebrate Pride Month at UW
June 1, 2022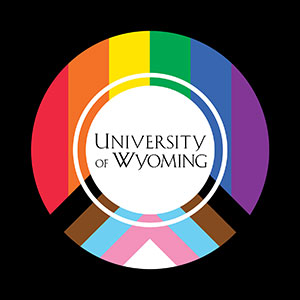 Free public events are scheduled each Friday in June to celebrate Pride Month at the University of Wyoming.
UW's Office of Multicultural Affairs, 7220 Entertainment, United Multicultural Council and the Innovation Wyrkshop, along with the nonprofit Laramie PrideFest, are hosting "Pride-Yays" events for both the campus and Laramie communities.
Along with the weekly Pride Month events, the Marian H. Rochelle Gateway Center's outdoor lights, each Friday, will be lighted with either the LGBTQIAP2S+ progressive colors or the trans flag colors. Additionally, UW Institutional Marketing created UW Pride emblems and logos using the progressive pride colors and flags.
Tyler Wolfgang, the UW Office of Multicultural Affairs' Gender and Sexuality Program adviser, says Pride logos are available for use by the UW community. To receive any of the many Pride Month logos, email the UW Office of Multicultural Affairs at uwma@uwyo.edu or click here to download the materials.
For more Pride Month activities in the community, follow Laramie PrideFest on Facebook or Instagram @laramiepridefest, or visit the website at www.laramiepridefest.com/. This is the fifth anniversary of Laramie PrideFest.
Here is the complete list of Pride-Yays events each Friday on the UW campus:
-- June 3: "Pride Crafts at the Innovation Wyrkshop Makerspace" in rooms 122 and 127 of the UW Engineering Education and Research Building (EERB), located at 1114 E. Bradley St. Free parking is available one block north of the EERB, and free parking is available after 5 p.m. outside of the facility. The event is from 10 a.m.-7 p.m., and participants can attend throughout the day, with sessions beginning each hour.
Attendees will use the makerspace's 3D printers and laser cutters to create individual LGBTQIAP2S+ crafts, such as button making, jewelry stamping, wood burning, 3D print painting, laser etching, nail and string art, coasters, logos and flags. Snacks will be provided.
-- June 10: "Pride Movie in the Park," West Fraternity Mall, facing 15th Street. "Love Simon," rated PG-13, will be shown at 8 p.m. The film stars Nick Robinson, with Josh Duhamel and Jennifer Garner playing his parents.
Free progressive pride and trans flags will be distributed, and attendees are urged to bring personal snacks and blankets to sit on the lawn.
-- June 17: "Matthew Shepard Candlelight Vigil," Simpson Plaza, located at the Wyoming Union's west entrance, from 7-8 p.m. Participants will join Laramie PrideFest to remember those in the LGBTQIAP2S+ community who have lost their lives to violence.
Free supplies will be provided, beginning at 5 p.m., for participants to make ribbons/armbands to honor Shepard, a UW gay student who was murdered in 1998. Candles will be distributed at the vigil and, after the event, which will feature speeches, attendees will walk across Prexy's Pasture to the Matthew Shepard memorial bench outside of the UW College of Arts and Sciences Building. A moment of silence will be observed, and participants will be asked to leave their candles after the short program.
Post-reflections will be held in the UW Rainbow Resource Center, located in Room 106 of the Wyoming Union, or at St. Matthew's Cathedral, located at 104 S. Fourth St., at 8 p.m.
-- June 24: "Queer and Ally Training," UW Rainbow Resource Center from 10:30 a.m.-1:30 p.m.
The Office of Multicultural Affairs is relaunching its campus Safe Zone program with Queer and Ally Training. The training covers three parts: Queer 101, Gender Affirming Practices and Rurality/History of the UW queer community. The soft launch of the new training also will allow participants to provide feedback and suggestions about the training moving forward.
The session is open to 30 participants, and free lunch will be provided. To register, email Wolfgang at twolfgan@uwyo.edu.
Contact Us
Institutional Communications
Bureau of Mines Building, Room 137
Laramie
Laramie, WY 82071
Phone: (307) 766-2929
Email: cbaldwin@uwyo.edu