Contact Us
Institutional Communications
Bureau of Mines Building, Room 137
Laramie
Laramie, WY 82071
Phone: (307) 766-2929
Email: cbaldwin@uwyo.edu
Kaspen Haley to Perform in UW Summer Concert Series June 8
June 7, 2022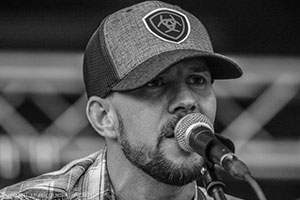 Kaspen Haley
Casper-based singer-songwriter Kaspen Haley will bring his brand of Americana, blues, rock and country to the University of Wyoming's Summer Concert Series Wednesday, June 8.
He will perform from 11:45 a.m.-1 p.m. on Simpson Plaza. Haley has opened for such acts as Dwight Yoakam, Joe Nichols, Charley Crockett, Adam Hambrick, Ian and Tris Munsick, and the rock band Jackyl.
The Summer Concert Series -- free and open to the public -- features a different band each Wednesday in June and July -- except for June 22 and July 6. Lunch will be available to purchase for $9. UW's 7220 Entertainment sponsors the concerts this summer.
For more information about the Summer Concert Series, go to 7220 Entertainment's Facebook page.
Individuals needing assistance to attend the concert should email Alejandra Prado Cardenas at apradoca@uwyo.edu.
Contact Us
Institutional Communications
Bureau of Mines Building, Room 137
Laramie
Laramie, WY 82071
Phone: (307) 766-2929
Email: cbaldwin@uwyo.edu