Contact Us
Institutional Communications
Bureau of Mines Building, Room 137
Laramie
Laramie, WY 82071
Phone: (307) 766-2929
Email: cbaldwin@uwyo.edu
Site-Specific Audiovisual Exhibition to Open July 2 at UW Art Museum
June 30, 2022
An audiovisual exhibition designed by a collective of artists and technologists will open Saturday, July 2, at the University of Wyoming Art Museum.
"Rec Lobe TV" features a digital conversation between Cleverbot -- a chatterbot web application that uses an artificial intelligence (AI) algorithm to have conversations with humans -- and human-created web content. This site-specific art installation uses a Laramie Police Department radio as the starting point for a journey that invites the viewer deep into the "mind" of the algorithm-centric internet, the result of which is far removed from the original text.
The group of artists and programmers behind "Rec Lobe TV" -- known collectively as NonCoreProjector -- has been employing AI in conceptual art installations for the last five years. Group members are Rollo Carpenter, an AI scientist and creator of Cleverbot; Nat Clark, a digital artist and electronic musician; Jack Colton, an interdisciplinary artist and writer; Elias Jarzombek, a creative technologist and electronic musician; and John O'Connor, a visual artist.
In "Rec Lobe TV," NonCoreProjector maps processes through which media transform visceral human experience into a multisensory, manipulated representation.
"This project grapples with the ways in which real events are experienced, translated, politicized and allegorized, shaping our individual and collective psyches in the process," according to O'Connor's website at www.johnjoconnor.net.
"Rec Lobe TV" is funded through the Susan Moldenhauer FUNd for Contemporary Art. The exhibition will be on view through Dec. 23.
For more information about the UW Art Museum, call (307) 766-6622; visit the website at www.uwyo.edu/artmuseum; or follow the museum on Facebook and Instagram.
The UW Art Museum exhibits, preserves and interprets visual culture from around the world to engage academic, local, state, national and global communities. The art museum is located in the Centennial Complex at 2111 E. Willett Drive in Laramie. Hours are Tuesdays through Saturdays from 10 a.m.-5 p.m. Admission is free.
---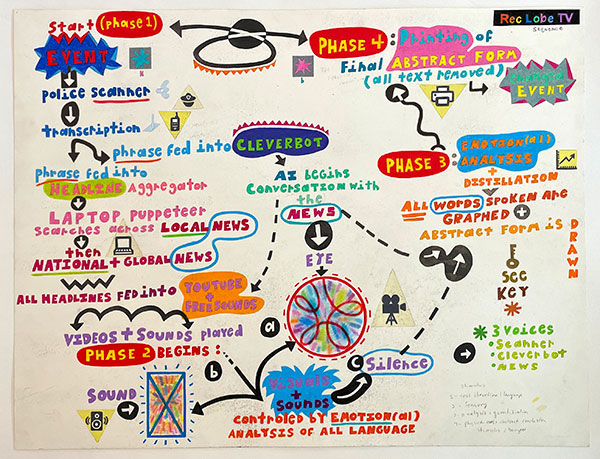 This hand-drawn diagram is part of the exhibition "Rec Lobe TV" that will be on view July 2-Dec. 23 at the UW Art Museum. (Image courtesy of NonCoreProjector)
Contact Us
Institutional Communications
Bureau of Mines Building, Room 137
Laramie
Laramie, WY 82071
Phone: (307) 766-2929
Email: cbaldwin@uwyo.edu