Contact Us
Institutional Communications
Bureau of Mines Building, Room 137
Laramie
Laramie, WY 82071
Phone: (307) 766-2929
Email: cbaldwin@uwyo.edu
UW School of Pharmacy Faculty Member Receives Distinguished Young Pharmacist Award
June 14, 2022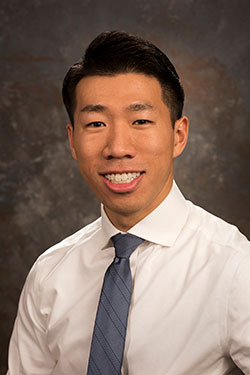 Alvin Oung
A faculty member with the University of Wyoming's School of Pharmacy has received the 2022 Distinguished Young Pharmacist Award, presented by the Colorado Pharmacists Society.
Alvin Oung, a clinical associate professor of pharmacy practice, was selected for demonstrating excellence in professional, community and association service.
Oung, who joined the UW School of Pharmacy in 2016, also practices at Bruner Family Medicine, which is associated with the Saint Joseph Hospital Family Medicine Residency in Denver, Colo. His clinical and research interests include family medicine/primary care, cardiovascular risk reduction, polypharmacy and medication adherence. He teaches throughout the pharmacy practice didactic lectures and offers ambulatory care rotations.
"We are proud of Alvin and grateful to the Colorado Pharmacists Society for recognizing him with this honor," says Kem Krueger, dean of the UW School of Pharmacy. "This is a fitting award, given Dr. Oung's impact on students, patients and other health care providers. He has a wonderful career ahead of him."
Oung says contributing to the growth of students throughout the pharmacy program is extremely gratifying and, thus, convocation/commencement is always "my favorite day of the year."
"I see each office visit as another opportunity to provide individualized care, and I have been fortunate to have developed therapeutic relationships with patients over the years," Oung says of his work as a practitioner.
Oung points to an experience likely shared by many health care professionals over the last two and a half years.
"Prior to the pandemic, I had been seeing a patient in the clinic monthly for approximately two years to help manage her chronic diseases," Oung says. "With the onset of the pandemic and most of my clinical service being transitioned to virtual care, there was a significant period of lost follow-up. However, upon hearing of my return to in-person visits, this patient quickly requested a follow-up visit with me."
While seemingly mundane, these ordinary moments "remind me of the impact that I can have as a pharmacist and bring me joy to know that I have the trust of my patients," he says.
The Colorado Pharmacists Society seeks to promote, develop and advance the profession of pharmacy to optimize patient care and public health, as well as to develop and support a diverse, inclusive and equitable community to ignite opportunities for all pharmacy professionals.
"Receiving this award is a huge honor," Oung says. "I am very grateful to be recognized for the work that I have done over the years, especially since I know there are so many other well-deserving pharmacists. I feel very lucky to be in a position that allows me to impact patient care, medical education and the profession of pharmacy."
Contact Us
Institutional Communications
Bureau of Mines Building, Room 137
Laramie
Laramie, WY 82071
Phone: (307) 766-2929
Email: cbaldwin@uwyo.edu