Contact Us
Institutional Communications
Bureau of Mines Building, Room 137
Laramie
Laramie, WY 82071
Phone: (307) 766-2929
Email: cbaldwin@uwyo.edu
Inaugural WyCEI Speaker, Workshop Series Features Entrepreneur Brande
October 13, 2022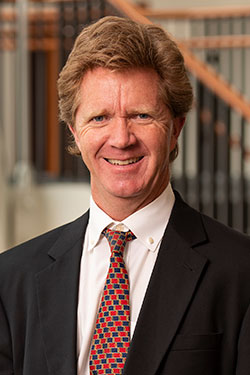 Even Brande
The founder and CEO of Laramie-based Handel Technologies will be the first speaker in a new series of presentations by the University of Wyoming's new Wyoming Center for Entrepreneurship and Innovation (WyCEI).
Even Brande will speak Wednesday, Oct. 19, from 6-8 p.m. in Room 129 of the College of Business Building. Light food and beverages will be provided. The presentation also will be livestreamed at https://uwyo.zoom.us/j/95951929086.
The public is invited to attend by registering at https://uwyo.startuptree.co/event/s/VD9oPT6pv8YaXYf3vrfpAJ/Entrepreneur-Talk-Series.
Originally from Oslo, Norway, Brande founded Handel in 1997 after receiving his bachelor's and MBA degrees, both from UW. The company started as a software development shop building custom solutions for Wyoming county government, retail and banking. One of the early custom projects was a database that allowed Handel to transition from a service provider to a product company.
Today, Handel's RiteTrack is a leading social services software used by county, state and tribal governments nationally. The company employs about 20 people, most working at the corporate office in Laramie.
WyCEI is a UW initiative under the umbrella of the Wyoming Innovation Partnership (WIP), which was created at the request of Gov. Mark Gordon in 2021 to modernize and focus Wyoming's efforts to develop a resilient workforce and economy.
The new speaker and workshop series aims to inspire and engage entrepreneurs across the state.
Contact Us
Institutional Communications
Bureau of Mines Building, Room 137
Laramie
Laramie, WY 82071
Phone: (307) 766-2929
Email: cbaldwin@uwyo.edu